Sri Lanka appeals over $162 mln British court order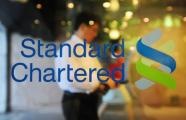 Sri Lanka will appeal against a London High Court order to pay $162 million to Standard Chartered Bank over a disputed oil hedging deal, the state-run petroleum company said Tuesday.
The Ceylon Petroleum Corp (CPC) said it had asked Sri Lanka's state attorney general to appeal against the London court decision.
Media reports in Colombo said the court found CPC failed to pay Standard Chartered Bank in line with its contractual obligations under a hedging deal struck during a period of oil price volatility in 2007.
In the hedging agreement, the oil company bet that prices would rise but instead they fell. Hedging involves making an investment to avoid the risk of adverse price movements.
A British High Court judge ruled on Monday in favour of Standard Chartered Bank's claim that it was owed $161.7 million plus interest following derivative transactions with the Sri Lanka oil giant.
"We are against the ruling which favours Standard Chartered Bank," the CPC said in the statement.
The CPC also entered into similar hedging deals with Citibank, Deutsche Bank and two local banks. These banks were also not paid.
(For updates you can share with your friends, follow TNN on Facebook, Twitter and Google+)