Singers regret their trip to Sri Lanka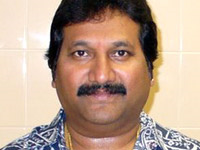 The South Indians, specifically Tamilians have been vociferously raising their voices against the incidents that took place to innocent Tamils in Sri Lanka. People belonging to the Tamil film fraternity had made up their minds to not perform from Lanka or shoot any films there.
Recently, singers Mano, Krish and Suchitra accompanied by actress Kasturi had silently left for Kilinochi to perform in a musical event – or at least that is what the singers thought. But only after reaching there did they realize that Rajapakse was to come for the event.
Not only that, this troupe trip to Sri Lanka started spreading in Tamil Nadu and it looks like singer Mano received a call from politician and a strong supporter of Sri Lankan Tamils, Nedumaran,  is believed to have called Mano about his trip to Sri Lanka. Sensing trouble the singers immediately cancelled their program and flew back to their home town.
After coming home, Mano is also believed to have regretted his trip along with his pals to Sri Lanka for the concert.
(For updates you can share with your friends, follow TNN on Facebook, Twitter and Google+)