46% votes in civic elections in Jaffna by end of Saturday
46% of registered voters in Jaffna exercised their votes in the civic elections on Saturday, election officials in Jaffna told media. Ruling UPFA men were seen in almost all election booths, violating the election rules by distributing notices and watching that their posters were not removed from the walls. In the islets off Jaffna, the voters were given alcohol by UPFA-EPDP personnel and there were widespread reports that the voters were allowed to enter the booths without proper identity checking. The Sri Lanka Army largely remained in their positions. SL Police was in duty. The voting will be taking place till Saturday 4:00 p.m.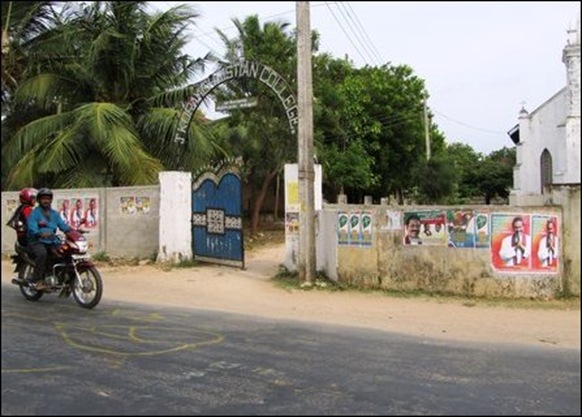 Even after instruction from SL Election Department to remove the election campaign posters within 500 meters of all election booths, the SL Police has not removed UPFA posters found in the walls of the elections booths in Jaffna. Photo taken on Friday morning. The deadline to remove the posters was Wednesday night. Reports from Jaffna Saturday morning said the posters were still seen at the election booths.
Posters of Rajapaksa's UPFA alliance were not removed by the SL Police as instructed by the election officials and several UPFA men were seen in the booths all over Jaffna.
The voter participation, registered in the morning around 10:30 a.m. was at 11%. However, within two hours the percentage rose to 22.41%, the officials said at 12:40 p.m. At 3:30 p.m., the voter participation in Jaffna was at 45.01%
The following were the voting pattern until 12:40 p.m.:
The lowest participation was at 6% in Chaavakach-cheari Urben Council and the highest registration of 37% participation was reported by the election officials at Oorkaavat-thu'rai (Kayts) Urban Council. Oorkaavat-thu'rai is controlled by the EPDP.
Polling was at 31% in Valveddith-thu'rai, 32% in Point-Pedro, 34% in Neduntheevu, 18% in Veala'nai, 22% in Kaarainakar and 35% in Nalloor.
Polling was between 14% – 33% in Valikaamam.
(For updates you can share with your friends, follow TNN on Facebook, Twitter and Google+)