Tiger-allied party sweeps Sri Lanka vote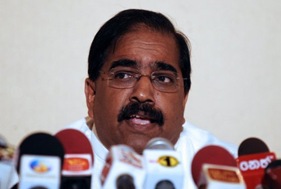 A political party that was closely linked with the defeated Tamil Tiger rebels won control of two-thirds of local councils in Sri Lanka's former war zone, results released on Sunday showed.
The Tamil National Alliance (TNA) won 18 out of 26 councils that voted on Saturday in the former conflict areas of the island's north and east, in the first local elections since the end of nearly four decades of ethnic conflict.
The separatist Liberation Tigers of Tamil Eelam (LTTE) used the TNA as their political arm until they were crushed by the island's military in May 2009.
Another opposition Tamil party won two councils in the former war zone, according to results released by the elections department.
"We have announced the party positions in the councils, but the lists of individual candidates who have been elected to these councils will be known by tomorrow," an election official said.
President Mahinda Rajapakse's United People's Freedom Alliance was left with just three councils in the former conflict zone, where the party had tried to improve its vote base after security forces annihilated the Tigers two years ago.
But the president's party succeeded in securing all 39 councils in the Sinhalese majority regions.
Saturday's poll covered 65 administrative bodies.
National elections were held last year, including in the former war zone, but the local polls are the first since the end of the gruelling conflict.
Hours before polling opened on Saturday, one supporter of the ruling UPFA was killed in the central Anuradhapura district following clashes between rival party supporters, police said.
Local councils have limited powers over utilities and administrative matters in their respective areas.
More than 440,000 people were eligible to vote Saturday in the north of the country.
(For updates you can share with your friends, follow TNN on Facebook, Twitter and Google+)