Ex-Sri Lanka president warns of short-lived peace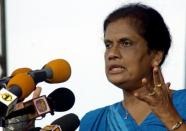 Sri Lanka's former president has warned of a "short-lived peace" unless the government shares power with the ethnic Tamil minority after the end of the island's civil war, her office said Monday.
Chandrika Kumaratunga, who ruled the island between 1994 and 2005, said her successor President Mahinda Rajapakse had followed a policy of "winner takes all" after crushing Tamil rebels in 2009.
"If we persist in this policy of winner takes all, then we will lose the remaining members of the minority communities," she was quoted as saying in a commemorative lecture for a late supreme court judge, K. Palakidnar.
She urged Rajapakse to work towards an "inclusive society" and share political power with minority Tamils and not to club the Tamil civilians together with the Tamil Tiger guerrillas.
"I too, am glad, extremely happy that the war has ended and terrorism defeated," she said. "But, I cannot blind myself to the fact that although we have won the civil war, we have not even begun to win the battle for peace.
"For winning peace implies bringing in and including 'the others (minorities)' fully and honestly not only in development, but also as full and equal partners of the processes of government — to power-sharing."
The separatist Liberation Tigers of Tamil Eelam (LTTE) battled for decades for a homeland for the ethnic Tamil minority, feeding off complaints about discrimination and marginalisation.
Kumaratunga also expressed shock over a controversial British television documentary that alleged executions were carried out by Sri Lankan troops during the final stages of the battle against the Tamil Tigers.
Sri Lankan authorities have rejected the documentary, Sri Lanka's Killing Fields, as a fake. The programme has been shown in many countries, including the US, Australia and India, where there are considerable Tamil communities.
"I shall remember till the end of my days the morning when my 28-year-old son called me, sobbing on the phone to say how ashamed he was to call himself a Sinhalese and a Lankan, after he saw on the 50-minute documentary.
"My daughter followed suit, saying similar things and expressing shock and horror that our countrymen could indulge in such horrific acts," she said. Her children are living abroad and have kept clear of politics.
Sri Lankan authorities have rejected the Channel 4 documentary as a fabrication designed to discredit its security forces, but a UN panel has said they had "credible allegations" of war crimes by Sri Lankan troops.
"Let us have the humility to admit that we Sri Lankans have failed as a nation," said Kumaratunga who has rarely intervened in politics since leaving office.
Her remarks on Sunday evening came as a political party that was closely linked with the Tamil Tigers won control of two-thirds of local councils in Sri Lanka's former war zone.
The Tamil National Alliance (TNA) won 18 out of 26 councils that voted on Saturday in the former conflict areas of the island's north and east, in the first local elections since the end of nearly four decades of ethnic conflict.
President Rajapakse's United People's Freedom Alliance was left with just three councils in the former conflict zone, where the party had tried to improve its voter base after troops annihilated the Tigers two years ago.
But the president's party succeeded in securing all 39 councils in the Sinhalese majority regions. Saturday's poll covered 65 administrative bodies.
(For updates you can share with your friends, follow TNN on Facebook, Twitter and Google+)