Basil inaugurates KKS Harbour project, makes money on Jaffna limestone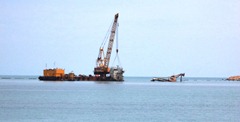 After the agreement entered between New Delhi and Colombo last week on carrying out a wide-ranging "rehabilitation" project of Kaangkeasanthu'rai (KKS) harbour in the SL Army occupied High Security Zone in Valikaamam, Jaffna, Indian engineers have already started to work on removing the wreckage of at least 6 Sri Lanka Navy and government owned ships that were sunk by the LTTE in the war. The wreckage had been blocking access for large vessels to reach the harbour. In the meantime, reports from the Sri Lanka Navy sources in Jaffna said that the SL presidential sibling and "development" minister Basil Rajapaksa has sold tonnes of high quality quarried limestone that has been stored in KKS, to an Indian company, making personal profit from the sales.
The limestone storage was being transported by ship directly from KKS by the Indian company, informed sources in Colombo said citing the SLN.
The Indian-assisted revival of the KKS cement factory and limestone quarrying in the High Security Zone of Valikaamam are going to affect limestone groundwater as well as public health in Jaffna by causing respiratory problems in the densely populated Valikaamam region of the Jaffna Peninsula.
On Tuesday, the Indian High Commissioner for Colombo Ashok K. Kantha, SL ministers Basil Rajapaksa and Douglas Devananda inaugurated the KKS Harbour project with Sri Lanka Navy officials.
Mr. Asohk K. Kantha also inspected the runway at the Palaali airbase of the Sri Lankan military. The runway has been constructed with Indian aid.
(For updates you can share with your friends, follow TNN on Facebook, Twitter and Google+)