Canadian Tamils unveil memorial, remember victims of Black July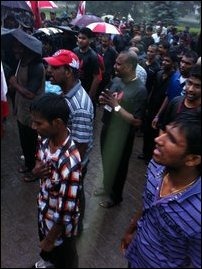 Glen Murray, Member of Provincial Parliament (MPP) for Toronto Centre, working with Canadian-Tamil youth, unveiled a plaque at a Tamil Memorial Tree Planting event at Evergreen Brick Works – a community environmental centre, Saturday honoring the tens of thousands Tamil lives lost in the struggle for human rights in Sri Lanka. Erected hours before the Black July remembrance event, the memorial commemorates the events of Black July 1983 to Mu'l'livaikkaal of May 2009, the organizers said. Later in the day, in a memorial event organized by National Council of Canadian Tamils (NCCT), Canadian-Tamils gathered at Queens Park –Toronto, to remember the victims of Black July- bracing the heavy rains.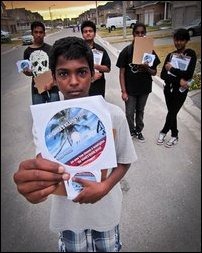 Throughout the event, copies of the Channel 4 documentary-Sri Lanka's Killing fields- were distributed to Canadians by members of Tamil Youth Organization-Canada (TYO) as part of their "G for Genocide" campaign, aimed at highlighting the plight of Eezham Tamils.
At the Black July Remembrance event, four distinguished speakers from the broader Canadian society spoke.
Former Liberal MP Borys Wrzesnewskyj read a statement from the Liberal Party of Canada's interim leader Bob Rae. Rae unconditionally provided his support for an international war crimes inquiry into the events of the 2009 Sri Lankan conflict.  Former Liberal MP Rob Oliphant read a statement from Liberal MP Jim Karygiannis who also provided his support for an international probe.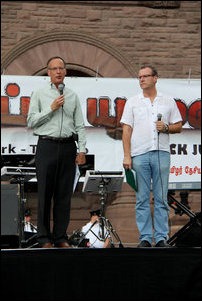 Glen Murray, Liberal MPP, was applauded for establishing the first memorial in Canadian history at the Evergreen Brick Works Park for the victims of Tamil genocide from Black July 1983 to Mu'l'livaikkaal 2009. Murray spoke about the unique contributions by Tamils to greater Canadian society, and extended his support for the Tamil struggle for political and human rights.
Angela Reignier, Executive Director of the University of Toronto Students' Union, spoke of the legitimate Tamil struggle for self-determination and political independence.  Ms. Reignier had earlier joined the Tamil community during the occupation of the Gardiner Expressway in 2009, and was subsequently arrested and was barred from participation in similar events for three months.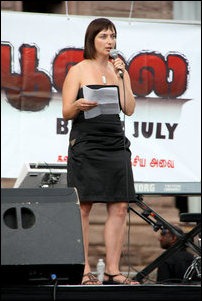 NDP MPP Michael Prue of Beaches East York also attended to read a statement on behalf of Andrea Horwath, leader of the Ontario NDP, but heavy rain forced the organizers to shorten the event.
The Evergreen Park event also included the planting of a Canadian Maple Tree to symbolize life and growth for the Tamil people's struggle for self-determination.
Members of the Human Rights and Advocacy Council for the Canadian Tamil Youth Alliance (CTYA) were present to assist with the planting of the tree.
(For updates you can share with your friends, follow TNN on Facebook, Twitter and Google+)