Army witnesses recount final orgy of massacre, rape, torture, mutilation
A Sri Lanka Army (SLA) officer has given Channel 4 an account of how, following orders from Defence Secretary Gotabaya Rajapaksa, the commander of the 58 Division, Brigadier (now Major General) Shavendra Silva gathered his officers in the closing days of the war and ordered them to take no prisoners when capturing the remainder of the enclave in which thousands of Tamils civilians and fighters were surrounded. Brig. Silva received the same orders that Mr. Gotabaya issued to all regiments, the officer who was then serving under Brig. Silva told Channel 4. Meanwhile, another Sri Lankan soldier with the 58 Division has given an eyewitness account of an orgy of mass murder, rape, torture and mutilation in the final days in which tens of thousands of Tamil civilians perished.
Continuing its investigations into Sri Lanka's war crimes, Channel 4 News broadcast Wednesday interviews with the Sri Lanka army officer and trooper from Brig. Silva's 58 Division. Channel 4's report concealed their identities.
This is what Brig. Silva, now Sri Lanka's representative to the UN in New York, told his gathered troops:
"This is a very decisive day for us because last night I got a call from the defence secretary. He told me that we only have a small chunk of land left to capture. Do whatever it takes- finish it off the way it has to be done."
The officer also told Channel 4: "We received orders from the top to kill some of those who surrendered. All regiments received the orders unofficially – from the top."
The day after, as LTTE political leaders B. Nadesan and S. Puleedevan surrendered along their families and hundreds of LTTE members, following, according to people involved in the negotiations interviewed by Channel, guarantees of safety directly from Sri Lankan President Mahinda Rajapaksa, they were all massacred.
The massacre took place after yet another order by telephone from Defence Secretary Gotabaya Rajapaksa, the officer told Channel 4.
He also handed over scores of photographs he had taken of the aftermath of the massacre.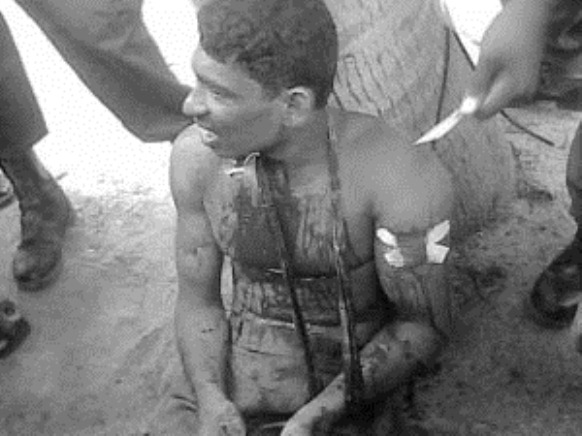 B/W picture of victim referred in story (TamilNet has information that the youth is Chandraseanan Vinothan from Mallaavi. Born in 9-5-1988)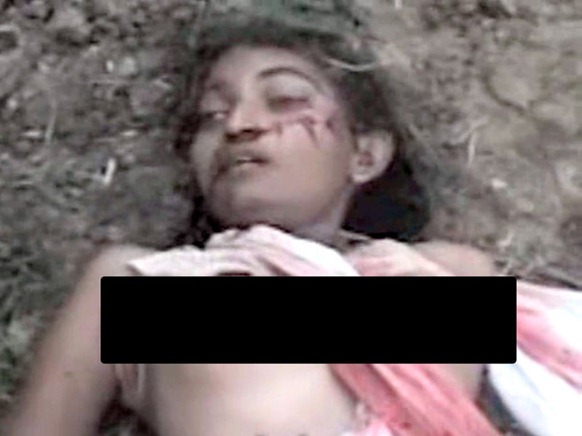 Isaippiriya, LTTE media specialist
The second witness who spoke to Channel 4 was a frontline soldier with the 58 Division in the final days of the war.
Secretary Gotabaya's order to ""to finish the job by whatever means necessary," was understood as a license to kill, the soldier said.
A killing spree ensued.
Tens of thousands of people, including large numbers of children, were killed by Sri Lankan troops, who also raped, tortured, and mutilated bodies, again including children.
Channel 4's web and video reports are available here (Report 1) and here (Report 2).
Below are extracts from the account of the soldier, referred to in the Channel 4 report by the name 'Fernando', of what happened:
"When I look at it as an outsider I think they're simply brutal beasts. Their hearts are like that of animals, with no sense of humanity."
"They shoot people at random, stab people, rape them, cut their tongues out, cut women's breasts off. I have witnessed all this with my own eyes. I have seen small children laying dead," he continued.
"I saw a lot of small children, who were so innocent, getting killed in large numbers. A large number of elders were also killed.
"They were shooting when a large number of civilians were crossing through a lagoon, including women and children. The soldiers were shooting at them. They were not Tiger cadres, just normal civilians. So yes, I saw normal civilians getting killed with my own eyes.
"I saw a family, a mother and three children. This small family was fleeing. As we were about to take them, one of the children was shot in the leg. The child fell. I carried that child with these hands. The mother was screaming."
Even the wounded were shown no mercy: "When they were at the hospital, one day I saw a group of six soldiers raping a young Tamil girl. I saw this with my own eyes."
Troops were allowed to act with impunity, Fernando told Channel 4.
"If they wanted to rape a Tamil girl, they could just beat her and do it. If her parents tried to stop them, they could beat them or kill them. It was their empire.
"For the soldiers at the battlefront, their hearts had turned to stone. Having seen blood, killings and death for so long, they had lost their sense of humanity. I would say they had turned into vampires."
These inhumane acts, "Fernando" said, extended to acts of torture and mutilation.
"I saw the naked dead bodies of women without heads and other parts of their bodies.
"I saw a mother and child dead and the child's body was without its head."
"Massive numbers of children, women and men were killed in the final stages of the war. When I say massive, in Puthumathalan alone, over 1500 civilians were killed.
"But they couldn't bury all of them. What they did was, they bought a bulldozer, they spread the dead bodies out and put sand on top of them, making it look like a bund.
"I saw 1500 bodies only in Puthumathalan, but I saw the same happen to more than 50,000 people like that."
Questioned on the accuracy of the numbers he cited, "Fernando" said: "In the final stage, all that I saw in Puthumathalan were dead bodies. When I entered the last place… it was totally full of dead bodies.
"They wanted to clear them that's why they brought that big vehicle. All they could do was just put sand on them. In some areas you couldn't go because there was such a terrible smell of decomposing bodies."
"They were just innocent Tamil civilians and did not belong to either warring party."
(For updates you can share with your friends, follow TNN on Facebook, Twitter and Google+)