US Court rules Rumsfeld can be sued for torture
Federal judge, James S. Gwin, of the District Court of District of Columbia, ruled this week that former U.S. Defense Secretary Donald H. Rumsfeld can be sued personally for damages by a former U.S. military contractor who says he was tortured during a nine-month imprisonment in Iraq. The lawsuit also accused four other US Government officials of a failure to secure the return of plaintiff's property seized upon his detention and of violations of his right to travel. Chicago civil rights law firm, Loevy & Loevy, argued for the plaintiff identified only as John Doe. A War crimes civil suit against Sri Lanka's President Mahinda Rajapakse by three Tamil plaintiffs sponsored by a US-based advocacy group Tamils Against Genocide (TAG), is also pending in the same District Court but under a different judge Colleen Kollar-Kelly.
pdf: Rumsfeld Decision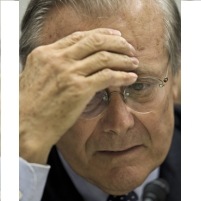 The lawsuit documents a dramatic tale of the disappearance of the then-civilian contractor, an Army veteran in his 50s whose identity is being withheld from court filings for fear of retaliation.
The Justice Department argued that Rumsfeld cannot be sued personally for official conduct, and that wartime decisions are the constitutional responsibility of Congress and the president, not the courts.
The department also said the case could disclose sensitive information and claimed that the threat of liability would impede future military decisions.
The Judge rejected the Justice Department's arguments.
"The court finds no convincing reason that United States citizens in Iraq should or must lose previously declared substantive due process protections during prolonged detention in a conflict zone abroad," Gwin wrote in a ruling issued Tuesday.
"The stakes in holding detainees at Camp Cropper may have been high, but one purpose of the constitutional limitations on interrogation techniques and conditions of confinement even domestically is to strike a balance between government objectives and individual rights even when the stakes are high," the judge said.
The New York Times reported that the veteran traveled to Iraq as a civilian employee of an American-owned defense contracting firm in December 2004, worked as an Arabic translator, and was assigned to work with a Marine Corps Human Exploitation Team, an intelligence unit.
The team operated in Anbar Province, gathering intelligence through local Iraqi contacts. In his suit, Doe maintains that he was the first American to open direct talks with a Sunni Arab tribal leader, Sheikh Abdul Sattar Buzaigh al-Rishawi, who had gathered the Anbar tribes and worked with the Americans to fight jihadist militants in the province. Sheikh Sattar was assassinated in 2007.
(For updates you can share with your friends, follow TNN on Facebook, Twitter and Google+)