Chandrika's bombshell – frontline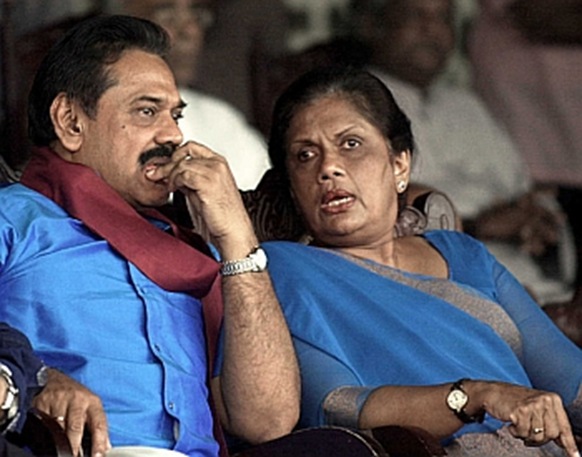 President Mahinda Rajapaksa with his predecessor Chandrika Kumaratunga at the 54th anniversary celebrations of the Sri Lanka Freedom Party in Colombo on September 6, 2005. Chandrika Kumaratunga has warned him of a "short-lived peace" unless the government shares power with the ethnic Tamil minority.
FORMER Sri Lankan President Chandrika Bandaranaike Kumaratunga chose a quiet July Sunday to speak her mind on the aftermath of a war that ended more than two years ago. "The victorious government and the Sinhala community must comprehend that the Tamil community is different from the LTTE [Liberation Tigers of Tamil Eelam].… I too am glad, extremely happy, that the war has ended and terrorism has been defeated. But I cannot blind myself to the fact that although we have won the civil war, we have not even begun to win the battle for peace. For winning peace implies bringing in and including 'the others' fully and honestly not only in development but also as full and equal partners of the processes of government – to power sharing," she said.
"An essential prerequisite for peace, a stable and strong government and prosperity, is a democratic, pluralistic state. This is the only magic potion I know to bind together diverse peoples of a multi-ethnic, multi-linguistic, multi-religious and multi-cultural country like ours as one undivided and strong nation," she added.
It was for the first time in over two years that a Sinhala politician of the stature of Chandrika Kumaratunga, who headed the government for nearly a decade, had come out openly and faulted Sri Lanka's majoritarian tendencies. Many others have admitted the calibrated exclusion of the Tamils in private, but none has spoken out for fear of being branded traitors.
There have seldom been half-measures with Chandrika Kumaratunga. Urging the government to work towards "an inclusive society", she warned of a "short-lived peace" unless the government shared power with the Tamils. Delivering the Justice K. Palakidner commemorative lecture on July 24, she accused President Mahinda Rajapaksa of following a "winner takes all" policy after eliminating the last of the Tamil Tigers in May 2009.
Citing examples from Sri Lanka's past and present, she tried to drive home the message that without pluralism Sri Lanka would have been much poorer. The greatest architect Sri Lanka has ever seen, Geoffery Bawa, was a Sri Lankan of Malay/Burgher lineage. "Could the Sinhala community alone have produced a Bawa, a Barbara Sansoni, an Ananda Coomaraswamy, a Muralitharan, a Duncan White, a Michael Ondaatje, a Shyam Selvadurai?… A massive number of our Burgher and Tamil people have left this country. If we persist in the present policy of winner takes all, we certainly will lose the remaining members of the minority communities," she said.
She said she was shocked by the British television documentary "Sri Lanka's Killing Fields", aired on Channel 4 about atrocities committed by the Sri Lankan troops during the final stages of the battle against the Tamil Tigers. "I shall remember till the end of my days the morning when my 28-year-old son called me, sobbing on the phone, to say how ashamed he was to call himself a Sinhalese and a Lankan, after he saw the 50-minute documentary. My daughter followed suit, expressing shock and horror that our countrymen could indulge in such horrific acts," she said. Both her children are abroad.
Chandrika did not stop with the issues in contemporary governance. She outlined the past in detail and faulted many policies, including the Sinhala-only policy and, by implication, her own parents who had run the country. "Let us have the humility to admit that we Sri Lankans have failed as a nation. Let us look truth in the face, have the honesty and the courage to accept our mistakes and the generosity to make amendments. Continued denial of proven facts and abuse of our honest critics will not resolve the problem for anyone. Our leaders must take the lead in the noble task of reconciliation and reconstruction," she said.
Chandrika has stayed clear of politics since she stepped down as President, but many have sought to enlist her support. Colombo's uppity party circuit is full of whispers about how some senior Ministers who are unhappy meet her regularly and implore her to make a comeback. Her only step in the recent past that can be construed as a mistake is her endorsement of former Army chief Sarath Fonseka ahead of the presidential election.
Chandrika's frank analysis is being viewed by some people close to the government as an "outburst of a leader searching for some relevance" and as unbecoming of a leader who failed the country in reining in the LTTE. Her critics received a major boost when parts of her speech were used in a new Channel 4 documentary that was released on July 21.
(For updates you can share with your friends, follow TNN on Facebook, Twitter and Google+)