Jungles cleared for "forced" resettlement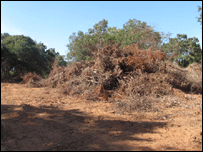 The internally displaced Tamils of the Menik Farm camp in Vavunia are to be resettled in a newly cleared area against their will says the major Tamil party in Sri Lanka.
Parlimentarian Sivashakthi Anandan revealed that at a meeting held last week attended by Mullaithivu Security Forces Commander Major General Leonard Mark, Government Agent A Pathinathar and members of several government and non governmental organizations including UN agencies had disscused resettlement plans.
TNA allege that IDPs from Puthumathalan, Mullivaikkal West, Mullivaikkal East, Ambalavanpokkanai, Valaignar Madam and Anandapuram in the Mullaitivu district who are presently at the Menik Farm camp at Chettikulam or with host families, largely at Vavuniya are not to be resettled in their original hometowns.
Government accused
"Alternately arrangements are being made by clearing forest areas in Kombavil to resettle these people." Said MP Anandan.
Sri Lanka's military spokesman General Ubaya Madawela admitted that land clearance for resettlement is taking place in the Kombavil.
At the Kombavil Progress Review Meeting held on the 3rd of August was informed by the military that 225 acres were cleared whithin 40 days.
TNA parliamentarian Sivasakthi Anandan also accused the government of preventing people returning to their respective villages in a bid to cover up war crimes.
He said that the government is claiming delays in land mine clearance to settle the internally displaced far from their respective villages.
"These were the areas where the final phase of war took place and thousands of people died. The government is depriving these people from their lands to cover up atrocities committed during the last days of war," said MP Ananthan.
The government agent has informed the meeting in Mullaithivu that it is impossible to free six villages in Puthukudiyirippu division from landmines in near future as demining has not even started in the area.
Allegations denied
Military spokesman Maj Gen Medawela denied the allegation saying, "the Sri Lankan military did not commit any war crimes".
The newly-arrived chief of the United Nations in Sri Lanka following a visit to Jaffna, Kilinochchi and Mullaithivu said that the situation of displaced people in Menik Farm from Mullaitivu 'whose areas of origin were not yet tasked for demining and could not return to their homes in the immediate future was of concern'.
(For updates you can share with your friends, follow TNN on Facebook, Twitter and Google+)