'Only 25p left but I will start again for my girls and new family of neighbours'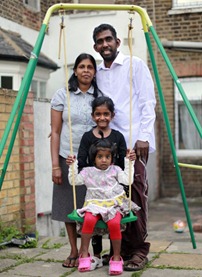 A Hackney shopkeeper who was pictured in tears amid the ruins of his ransacked grocery store today revealed he has just 25p to his name.
Shiva Kandiah, 39, was devastated when looters attacked his shop and set it on fire after taking more than £10,000 of goods.
Mr Kandiah, who is married with two children, said he had felt that he would never be able to face opening his business again, saying: "Everything has gone … there's nothing left."
Mr Kandiah, who began his business 10 years ago, saw his shop in Clarence Road being attacked while watching the television.
"All I have left is 25p. That's it. All the money was in the till and I had just spent £6,500 on cigarettes and wine and that has all gone.
"I had no contents insurance so will never see that money, but I have realised that I can start again because most people are so kind and supportive. The people of Hackney have been coming to the store and saying they will help clean it up and rebuild it. They were always good to me and very chatty, but today I feel like they are my family."
He added: "Today, I got up at 4.30am and got ready to go to the shop and for the first time in years I could have gone back to sleep as the shop is no more.
"But I still went to the store and met the newspaper delivery man and chatted to him. He accepted that I had to cancel the papers.
"I did not think I would ever feel like re-opening the shop, but I have to do it for the good people of Hackney. They are my friends and that means people of every colour and religion and that is the great thing about an area like Hackney.
"It will take some time as I don't have the money to order new stock, but I will re-open. I promise my friends that.
"I must not let these youngsters who did this get away with beating me. I hope they will see me as a person who overcame their terrible actions and learn from it themselves as they cannot be very happy with their own lives to do that."
Detectives have begun studying photographs of the looters who ransacked his store and a few faces have been identified.
Mr Kandiah added: "I have never harmed anybody … nothing. Why did this happen to me? Why? Is it because people are jealous of those who work hard for their family?"
He added: "The looters took everything and I could do nothing but cry all day. Then I came home and my two daughters hugged me and I knew my life was going to go on. It must go on and I have to start again."
(For updates you can share with your friends, follow TNN on Facebook, Twitter and Google+)