Reduction of Jaffna MPs 'erodes Tamil sovereignty'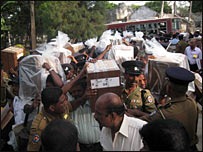 The biggest Tamil political party in Sri Lanka has objected the decision to reduce the number of parliamentary representatives from Jaffna district.
In a special statement to parliament, leader of the Tamil National Alliance (TNA) described the decision by the elections commissioner (EC) as an "erosion of sovereignty" of the Tamil people in Sri Lanka.
But the government said the Commissioner has made the decision in line with regulations.
"The seat allocation is done annually by the commissioner of elections according to the constitution," Prime Minister DM Jayaratne told parliament in response.
EC has recently decided to reduce the number of seats allocated to Jaffna district from 10 to six.
'Political move'
The PM added that the EC does not have "discretionary powers" in determining the number of seats allocated to every district.
The Tamil leader who described the governments decision as a political move said it has been done hastily disregarding the democratic verdict of the Tamil people who voted overwhelmingly for the TNA.
Over the last few decades, said R Sampanthan, MP, the registration of voters in Jaffna 'has not been methodical and regular as it should have been' due to decades of armed conflict.
"Many voters were not in possession of their national ID cards and consequently their names were omitted from the register of voters," the TNA leader told the parliament.
People in the north were more concerned on more urgent matters, he said, such as ensuring their safety while many others have migrated.
The prevalence of high security zones (HSZ) have prevented them from returning, said Mr Sampanthan.
"The existing presence of the military, even in civilian residential areas, a suspension of the rule of law and the imposition of the state of emergency is rendering civilian life vulnerable and unsafe," he said.
The presence of the paramilitary groups "with the blessings of the government" further deteriorates the situation preventing the return of the normalcy in Jaffna, according to the TNA leader.
"The vast majority of voters withing the Jaffna electoral district are Tamils," he said.
"A substantial deduction of their representation in parliament is tantamount not merely to a denial of their franchise but also the erosion of their sovereignty."
(For updates you can share with your friends, follow TNN on Facebook, Twitter and Google+)