Iran, Turkey follow Sri Lanka model: Kurdish paper
While the Sri Lankan government is accused of deploying Israeli 'Gazafication' model in Sinhalicising the occupied country of Eezham Tamils, Iran and Turkey are adopting the so-called Sri Lankan model of 'warfare' against Kurdish people. In an article titled, "Reminding the Kurdish nation of the case of Tamil," The Kurdish Globe, a weekly published in Erbil, Kurdistan in northern Iraq, on Saturday cited recent instances of pro-Turkey writers discussing 'Sri Lanka model'. In the meantime, the executives of the Kurdistan Workers' Party (PKK) have also gone on record comparing the Tamil situation with their own, the paper said.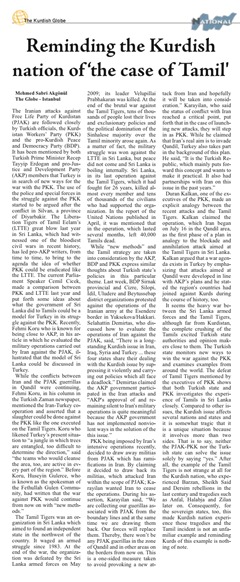 The Kurdish weekly, which is viewed as a pro Kurdistan Regional Government (KRG) paper, in its article cited Fehmi Koru, a Turkish columnist, whom the paper viewed as being close to Turkey government, which is fighting the Kurdistan Workers' Party (PKK). The Kuridish Globe said that Mr. Fehmi Koru, recently evaluating the military operations carried out by Iran against Free Life Party of Kurdistan (PJAK) illustrated that the model of Sri Lanka could also be discussed in Turkey. The PJAK is seen as an offshoot of the Turkey-based PKK in Iran.
Meanwhile, Turkish Prime Minister Recep Tayyip Erdogan has gone on record that Turkey is in search of new ways for the war with the PKK, the paper said.
The paper further said that the current Parliament Speaker of Turkey, Cemil Cicek, also made a comparison between PKK and LTTE last year and that he had put forth some ideas about what the government of Sri Lanka did to Tamils could be a model for Turkey in its struggle against the PKK.
"As a matter of fact, the military struggle was won against the LTTE in Sri Lanka, but peace did not come and Sri Lanka is boiling internally," the Turkish Globe article warned.
In the meantime, Duran Kalkan, one of the executives of the PKK, has made an explicit analogy between the recent attacks against Kurds and the Tamil Tigers, the paper said.
Kalkan of the PKK has said that the Iranian operation against Kurds, which began on July 16 in the Qandil area, as the "first phase of a plan in analogy to the blockade and annihilation attack aimed at the Tamil Tigers in Sri Lanka".
Kalkan argued that a war agenda exists in Turkey by emphasizing that attacks aimed at Qandil were developed in line with AKP's plans and he stated the region's countries had joined against Kurds during the course of history, too. AKP is the ruling party in Turkey, opposed to the Kurds.
After all, the example of the Tamil Tigers is not strange at all for the Kurdish nation, who experienced Barzan, Sheikh Said and Dersim rebellions in the last century and tragedies such as Anfal, Halabja and Zilan later on, the paper said.
"Consequently, for the sovereign states, too, this made Kurdish nation experience these tragedies and the Tamil incident is not an unfamiliar example and reminding Kurds of this example is nothing of note."
(For updates you can share with your friends, follow TNN on Facebook, Twitter and Google+)