Riot-hit Tamils in London rebuild amid local support
Tamil-owned businesses amongst those damaged in three days of rioting and looting last week in several parts of London were also picking themselves up this week, cleaning and restoring damaged premises, restocking and inviting customers back. They are being assisted by sympathy and support from their local communities. Amongst the hardest hit parts of the capital on Monday night were London road in Croydon and Hackney, where Tamil businesses were amongst those destroyed. Prime Minister David Cameron, touring Croydon the day after the riots, met with police and emergency services and visited damaged shops to express his support. London's Mayor, Boris Johnson, did the same later that day. British insurers expect to pay out £100m for damage, interrupted trade and cleanup costs.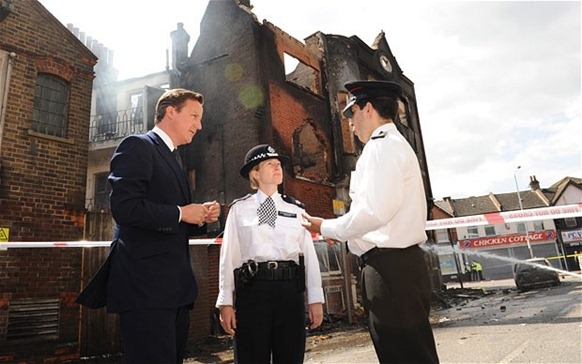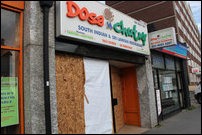 Escalating over three nights, rioting and looting gripped several parts of London, as well as several other cities – Liverpool, Manchester, Birmingham and Bristol. Monday night was the worst with the violence erupting on a large scale in several places simultaneously.
British police found themselves overstretched, with many places – including Croydon and Hackney – left without a police presence.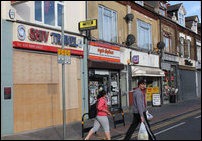 Since the rioting a major controversy has erupted in Britain embroiling the government and the police leadership in acrimony, much of it being played out in the media. It partly stems from government plans announced earlier to sharply reduce police numbers as part of tough and controversial austerity measures.
Amongst the local communities in riot-struck areas, there has been both criticism of, and sympathy for, the police.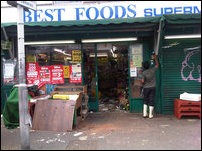 One of the hardest hit areas was Croydon's London road where several Tamil businesses are located. They include grocers, travel agents, jewellers, textile shops, DVD shops, barbers, restaurants, sweet shops and even a flower shop.
Recovering
TamilNet last week visited the area last week and found proprietors of damaged businesses getting back on their feet.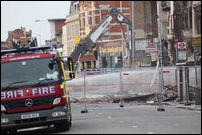 Croydon has a large and long-established Tamil community, originating from both Eelam and Tamil Nadu. Next to a burnt out bookmakers and moped shop a large billboard still carries an announcement of 2010's Remembrance Day event.
JK Gold house had been damaged and looted. The jewellery and textiles shop was one of the businesses visited by Prime Minister Cameron the day after the riots.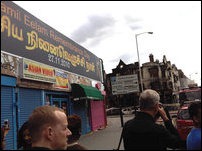 Proprietor Kanagaratnam Paramanathan and his entire family were cleaning up the premises when our correspondent spoke to him.
Visibly upset, Mr. Paramanathan said he had expressed his anger to the Premier, saying he blamed the government for the lack of policing, pointing there had already been two nights of violence before Monday night's eruption.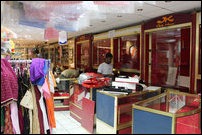 The Prime Minister had assured him that the government would be taking strict measures to prevent the recurrence, but Mr. Paramanathan remains worried.
"An increase in police numbers on the streets is only a short term solution. Long term social policies have to be implemented to support disaffected youth," he said.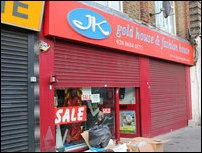 Best Foods, one of the largest and best-known Tamil grocers, which has branches in several other parts of London, had been broken into and £20,000 worth of cigarettes and alcohol looted. The Croydon branch has been trading for over two decades.
"The police had all their forces concentrated in [Croydon] town centre where the larger businesses are, and effectively sacrificed the small businesses on London Road," the proprietor Jeya Kumar told TamilNet. "We called the police at 7.30 pm but they didn't come until after 12."
"The government should scrap all plans to cut the size of the police force. Monday night's events could have easily been prevented by a greater police presence in the area."
Mr. Kumar, who also owns the nearby Londis grocery, which was also gutted, also expressed his anger to Premier Cameron when he visited on Tuesday.
Memories of 1983
The same sentiments were expressed by Dr Kannappar Jeyanthan, chairman of the Croydon Tamil business forum, in an interview to the local Guardian newspaper.
"We feel doubly let down. There was no police protection for businesses down here in London Road during the riots leaving us unprotected while the town centre was defended," he said, adding that the aftermath reminded him of "war torn lawless Sri Lanka."
"Though we understand that the Croydon police were under resourced and not prepared for a situation like this, we, as council rate payers and business tax payers, expected the police to do more to protect us from this madness," he added.
Dr Jeyanthan said many of the families affected had lost everything in violence in Sri Lankan and were now suffering again. He said he hoped the government would provide loans and other help to rebuild London road's businesses.
Haran Brothers, another large grocer had escaped unscathed – save the looting of some vegetables stored outside – after staff stood guard in front as the rioters moved down the road. Proprietor Baskaran also wondered at the lack of police response for several hours.
"The government should support the police to do their job. It is a difficult job. London needs more, not fewer police. This is what the people also want," he said.
Ellalan supermarket was damaged and looted as staff concentrated on protecting another of the proprietors' businesses – the Spiceland restaurant – further up London road.
Sanoja Jewellers, a mile from the epicentre of the rioting in Croydon, was also attacked. Though shocked, proprietor Indraneru Nallathamby was defiant, vowing to be back in business soon.
"We have experienced this [rioting] in Sri Lanka, we didn't expect it here. Here at least, it's got nothing to do with us being Tamil, and our government and police take no satisfaction from our losses," he said.
Eelam Video also escaped the violence, but its proprietors also expressed anxiety about police capacity to respond if such violence recurred.
In some places where police lines were deployed to contain and hold back rioters, Tamils proprietors joined others in handing out coffee and snacks to exhausted officers. Over 200 officers were reported injured.
Community support
Many of the businesses began getting back on their feet the day after the riots, repairing premises, restocking shelves and resuming trade, supported by an outpouring of public sympathy and outrage at the rioting.
Mr. Jeya Kumar worked all day with his staff to get the Best Foods grocery back up.
Lots of local people had come in to offer their support and congratulate them for reopening so soon, he told one local newspaper.
In Hackney, the local community rallied to shopkeeper Siva Kandiah after his business was looted and torched of stock worth £10,000.
Speaking soon after the riots, he told the Evening Standard newspaper "All I have left is 25p. That's it. I had no contents insurance so will never see that money."
His wife Baskary, 36, a business graduate, added: "We do not have any money. Everything is in bank loans and in the business. But we have our children and love from them."
But a website appeal by local residents has raised over £20,000 for him by Monday this week, with £5,000 within the first 12 hours of being launched.
And a local solicitors firm, Mira Mar Legal, has offered its advice and services free to help Mr. Kandiah claim reparations under the Riot Damages Act.
One of the appeal organisers, local artist Sarah Pletts, told the Evening Standard "Siva has been part of our lives for 11 years. He is an important member of our community. It was heartbreaking to see him in tears."
Speaking afterwards, Mr. Kandiah told the Evening Standard "I am grateful for everything people are doing. Their friendship has been so important to me. I do not have the words to describe how wonderful these people are."
Mr. Kandiah added "I am going to start my business again. It will take some time, but I will reopen."
Mr. Kandiah has also unexpectedly found himself something of a symbol for the plight of small businesspeople hit by the riots, with his case being widely reported in several British and international media – including The Hindu in India.
As in many other cases, detectives have begun studying photographs of the looters who ransacked his store and a few faces have been identified, the Daily Mail reported.
The Evening Standard has launched a campaign – 'Save Our Shops' – for big businesses and ordinary Londoners to back local businesses and help restore the capital's riot-damaged high streets.
The campaign has been backed by Mayor Boris Johnson, who has also announced a £50m regeneration fund. "I would urge Londoners to get out and support local businesses. Go local," he was quoted as saying.
Prime Minister Cameron said meanwhile that council tax and business rates would be temporarily suspended for seriously affected businesses.
London campaigners who helped organised a massive community clean up effort in the days after the riot are asking landlords with empty retail space to assist those trying re-established damaged businesses, and for ordinary Londoners to 'shop local' in support.
(For updates you can share with your friends, follow TNN on Facebook, Twitter and Google+)