Tamil villagers clash with SL Police in Batticaloa
A man suspected to be a Sinhala policeman or soldier, who entered the house of a Tamil woman at Oo'ra'ni in Batticaloa attacked the young women Wednesday afternoon around 2:00 p.m. The intruder, using a sharp object, caused injuries to her chest and her hand before leaving the area. An eyewitness saw the attacker escaping into to the police post located 100 meters away on Oo'ra'ni – Chelvanayakam Road. Soon after the episode, angered villages started burning tires and setting up roadblocks preventing vehicle movement along Batticaloa Trincomalee Road. The SL policemen deployed in the area attacked the protesters with wooden polls and clubs. The SL police has also used tear gas to disperse the crowd. Tension prevails in Oo'ra'ni.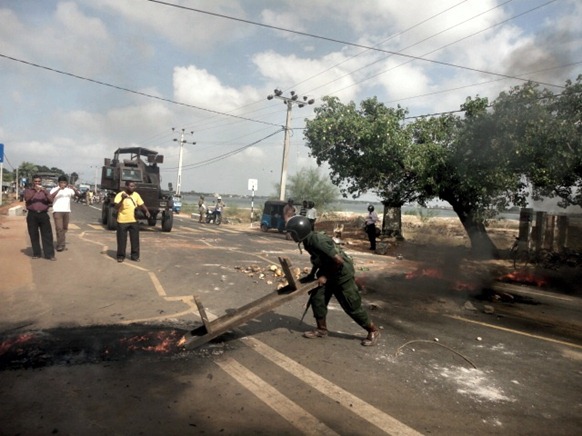 Hundreds of occupying Sri Lanka Army soldiers and SL Special Task Force commandos are deployed along the road from Oo'ra'ni to the city of Batticaloa.
SL Army soldiers in armoured vehicles and Tanks were rushed to the site to assist the SL Police.
An undeclared curfew is imposed in the city of Batticaloa.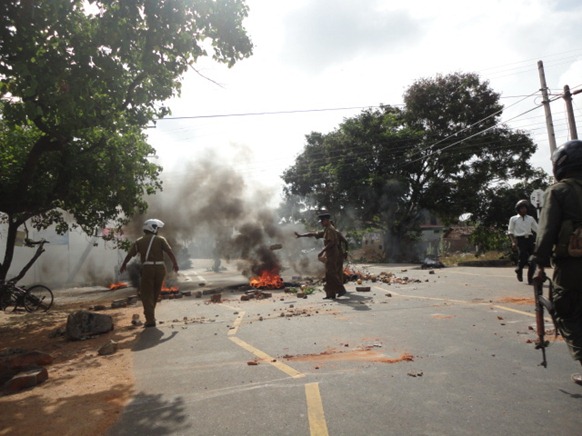 The wounded Oo'ra'ni woman has been treated in Batticaloa hospital.
One elderly person injured in the police attack is also being treated at the hospital, according to medical sources.
The villagers say that occupying SL military and police are attempting to commit sexual abuse on Tamil women and say that Sri Lankan media has made 'grease devils' phenomenon a suitable excuse for the occupying soldiers to use it against the Tamil women.
'Grease devil' is kind of attack on women reported in the island in which the culprit comes after applying grease on his body so that he could not be caught.
For the Colombo-based SL media, the anger of Tamil villagers in the East against the occupying forces attack on Tamil women seems to be "mob violence" and an "unbelievable" collapse of confidence in law enforcement.
In another incident, at Chitthaa'ndi in Mu'rakkoddaang-cheanai, a Tamil woman who ran away from a suspected Sinhala soldier fell into a well. She was saved by the residents.
On Tuesday night, a group of men attempted to enter the hostel building housing female nurse trainees at Batticaloa Teaching hospital through the roof of the building. The intruders escaped when the inmates shouted alerting hospital staff. SL Army soldiers who came later said there was nothing to worry and left the scene.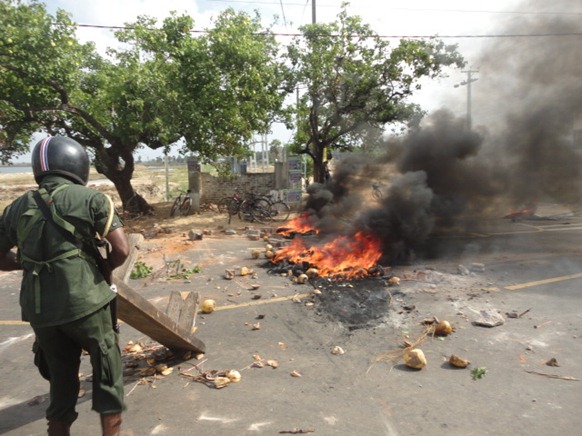 (For updates you can share with your friends, follow TNN on Facebook, Twitter and Google+)