Double games and dual roles in UNP circus
Most members of the Working Committee, the policy making body of the country's main opposition United National Party (UNP), were perhaps asleep late Tuesday night when orders went out to move heavy rollers, asphalt pavers and other road construction machinery before dawn the next day opposite Siri Kotha, the party headquarters at Pita-Kotte.
As a Road Development Authority (RDA) official said on grounds of anonymity, orders had come "from the top," to pave the road with asphalt. So they laid one more layer over an already carpeted road. This was in marked contrast to other parts of the same road that connects Kotte-Sri Jayawardenapura to Maharagama. Just past one intersection from that location, at the Embuldeniya junction, the RDA had remained oblivious for many months to a rugged stretch that has forced traffic to move slowly. Both residents and motorists had complained but it was of no avail. Large blobs of melted tar had formed jagged contours creating an uneven surface. Pot holes were galore.
At 6 a.m on Tuesday, Police barricaded roads leading to Siri Kotha. That was from Bangala Junction to Jubilee Post Junction along the main Kotte Road. The other was from Ananda Balika Girls School junction on Pagoda Road, from the direction of Nugegoda to the Beddegana Junction. Armed policemen on guard at the barricades told motorists the roads were closed because repairs were being carried out. A large group of armed policemen also took up position outside the UNP headquarters.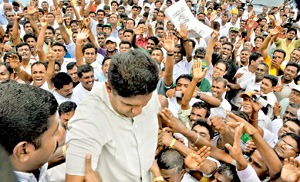 Hours later, Chief Inspector Senarath Egodawela, officer-in-charge of the Mirihana Police, told Gangodawila Magistrate and Additional District Judge Anura Kumara Herath that there were fears of public unrest due to a satyagraha or a protest campaign organised by Sajith Premadasa and Shiral Laktilleke, members of the UNP. Premadasa has for more than an year headed a campaign to oust UNP leader Ranil Wickremesinghe to no avail, and is now hoping to foist his co-deputy, Karu Jayasuriya to the leader's post.
Laktilleke, though once on the verge of being removed from the party, is still the UNP organiser for Kotte. Acting on instructions from his seniors, the police officer sought a court order preventing the conduct of such a campaign. He pointed out that UNP General Secretary Tissa Attanayake, too had made a request from the Inspector General of Police, N.K. Ilangakoon, to provide police protection. If such a campaign was held, the court was told, it would affect candidates proceeding for the GCE (Advanced Level) examination.
Nevertheless, among those affected by the road closure were students sitting the examination. They were forced to take other routes. If Attanayake's request was only for protection, it was incomprehensible why that limited request was not heeded. After all, police have successfully provided security to much larger events by drawing strength from elsewhere. A case in point is demonstrations held at Lipton Circus or opposite the Fort Railway Station periodically.
Prohibition order
The Magistrate and Additional DJ ruled that from 8 a.m. on Tuesday until midnight, no procession of vehicles or people could move along the roads that have been barricaded. He said there should be no satyagraha or any other protest campaign. That prohibition order put paid to plans by the dissident group in the UNP, calling themselves the Reformists, to launch a protest outside Siri Kotha when the party's Working Committee meeting got under way that same day.
In fact, it was Wickremesinghe who had voiced concerns over the planned satyagraha. At a news conference the day before (Tuesday), he said, "The UNP Working Committee is meeting tomorrow (Wednesday) to appoint the nomination board, to select candidates and to decide on how we conduct the elections. In addition to that the reorganisation programme will be given approval tomorrow. If we cannot appoint the nomination board tomorrow we will run short of time to do our nominations. We have not asked anyone to come to Colombo tomorrow (Wednesday). Anyone who comes is not a party member. The reason for this is an advertisement which came in the Sirasa TV yesterday (Monday) talking of a satyagraha by the UNP. The UNP has not organized any satyagraha.
"We do not want our people coming and falling into trouble. If we do a satyagraha, we ourselves will be ready if we organise our own one. Here we are not ready. If someone in the UNP is organizing one we should advertise in all electronic media — TNL, Derana, Swaranawahini etc. No one had it. This is a paid advertisement according to my information.
"So why are they trying to disrupt this. Let me talk of the actual fact. After the last parliamentary elections, Maharaja Organisation (he names a leading member of the management) wanted to nominate two people who were not even activists, to the party national list. We refused to do it. It was a decision of the Nomination Board. From that time onwards the fire has been directed at the UNP and me…….. There must be a demarcation of business interests among the media. You must build a wall, if necessary. This has come up in England. Rupert Murdoch and the News of the World attempted to buy the government.
"The same thing has come up in Sri Lanka when Mahinda Rajapaksa is muzzling media freedom. Where do we stand on this issue? ……
Are you trying to buy us over, or are you doing your job. Or we do our job and you criticize us if something is wrong. We will criticize you if something is wrong. As far as the UNP is concerned, we are going to organise ourselves. In the next two years we can see an upsurge. I will not get diverted from that. I have protected this party during President Premadasa's time after he was killed……"
State-run electronic and print media had given wide publicity to Wickremesinghe's news conference. There was little doubt that the full weight of the UPFA government and its machinery were thrown in favour of Wickremesinghe, the leader of the opposition and the UNP. The move raised eyebrows not only in sections of the UNP but also in government circles. This is notwithstanding presidential spokesperson, Bandula Jayasekera distancing President Mahinda Rajapaksa from the unscheduled road repairs outside Siri Kotha. An SMS from Ada Derana said, "the President has asked for explanations as to why the road leading to Siri Kotha was carpeted in a hurry yesterday (Wednesday). Yet, Cabinet spokesman and Media Minister Keheliya Rambukwella told a post-cabinet meeting news briefing on Thursday that the government was committed "to protect and respect the leader of the opposition." He was one of the main features in a robust democracy, he added.
The news of a prohibition order on their satyagraha prompted dissident leader Premadasa to shift the venue to the Colombo Town Hall grounds. Some of the participants who came to Kotte in buses were turned away. Others who were told of the venue change arrived directly at the Town Hall grounds. Police were in full strength to provide security at the Colombo Muncipal Council grounds, something which was not possible for them to do outside the party headquarters in Kotte. Slogans shouted by crowds preceded speeches by UNP parliamentarians Premadasa, Dayasiri Jayasekera (MP-Kurunegala District), Buddhika Pathirana (MP-Matara District) and Ranjith Madduma Bandara (MP-Moneragala District).
Other parliamentarians present were Dunesh Gankanda, Rosy Senanayake and Thalatha Athukorale. Pathirana, a one time TV anchor, kept announcing on the public address system that an unknown person has left a bagful of wasps. If it was open, participants would have been stung. He warned them to beware of this and also desist from damaging any state property. Among the slogans were "Ranil who protects the Rajapaksa government should go home," For God's sake Go home Ranil" and "Go home, Go home." There was also the extensive use of some undignified slogans which seemed to suggest the organisers did not care about the use of intemperate language.
Police estimates placed the crowd at around 3,000 to 3,500 — sizeable given the fact that the original venue had been shifted at the last moment. When Premadasa arrived in a luxury vehicle, there was some confusion. Crowds chanted "anargatha nayaka thumata jayawewa." (Greetings to the future leader). The fact that Premadasa was now promoting Karu Jayasuriya as the leader, having failed in his own bid, was lost on the crowd. They helped him get on to an open-bodied truck to make a speech. Premadasa said, "We were to have a gathering outside the Siri Kotha with UNP local council and provincial council members to form National Guild to strengthen the UNP. But instead a deal with the government has been reached to place difficulties to the party members. Therefore we are sorry we have had to change the venue of this Satyagraha…….
"Our leader does not understand reality. He does not understand the sorrows or hardships of the UNP members. We live among the people. We like to meet the public and like to go along with them. My question is why he is scared of the green power. Why does he not listen to the concerns of the people? Instead of reaching agreement with the government to lose forever why is there no agreement with the people to win elections………
" I have never said this before. I would like to say it today. Our leadership and the government have direct links. Because of these links, it is the six million UNP members who suffer. We do not have rogue deals. Our only aim is that the UNP which has been suffering consecutive defeats to return victorious. I call upon you to rally to help to end this deal with the government. ……We have made a proposal not to throw the leader out. We want the opportunity to rebuild the party. We did not want to drive out any one…….We cannot win elections by having contacts with the Rajapaksa government. You cannot have deals with the government and win elections. ……"
The speakers including Premadasa, no doubt were enthralled by the crowds. They were even more enthralled that the television cameras were all focused on what they were saying. So they were both buoyant and boisterous. It also came as an opportunity for Sirasa TV to respond to Wickremesinghe's criticism about its management trying to buy over the UNP. Some of the participants in the demonstration gave sound bites on camera. They said the UNP could not be bought over since it has already been sold to the Rajapaksa government.
Working Committee meeting
The mood was quite different when the Working Committee began its sessions under heavy security at Siri Kotha later that afternoon. Wickremesinghe's political shrewdness and strategy forced some of the vociferous speakers at the demonstration to remain voiceless or strangely supplicant. The Working Committee meeting began with items on the agenda being taken up for discussion. The first task was to appoint heads of local authorities from those elected. This was on the basis of recommendations made by the UNP Advisory Committee. Then a new head was named to the UNP Disciplinary Committee which was earlier chaired by Karu Jayasuriya. Taking over now will be Tilak Marapana, President's Counsel, a former Attorney General and cabinet minister.
The Working Committee thereafter decided on the National Nomination Board. It will be chaired by leader Ranil Wickremesinghe and will include Karu Jayasuriya, Sajith Premadasa, Tissa Attanayake, Gamini Jayawickrema Perera, Kabir Hashim, Lakshman Kiriella, D.M. Swaminathan and Joseph Michael Perera. The appointment of a local polls operations committee followed. It will be headed by Jayasuriya and comprise, Premadasa, Attanayake, Jayawickrema Perera, Kiriella and Joseph Michael Perera
The Working Committee then decided to celebrate the UNP's 65th anniversary with a function at Siri Kotha. Arrangements for this are to be worked out. The UNP's main rival, the Sri Lanka Freedom Party will mark its 60th anniversary at 'Temple Trees' on September 2. The Working Committee also decided to mark the birth anniversary of the late J.R. Jayewardene (September 17) also at Siri Kotha. A blood donation campaign will take place at the adjoining Jathika Sevaka Sangamaya headquarters. It was then decided that responsibilities will be apportioned in writing to party office bearers.
The item now was "any other business." Wickremesinghe rose to speak. He said everyone in the party must adhere to the UNP constitution. He explained the various clauses in the party constitution to highlight that a change in leadership had to be carried out through procedures laid down. He quoted relevant chapters.
He said there had been a resolution at the parliamentary group meeting to remove him from the leadership. However, he pointed out that it had been moved after the group meeting adjourned and was therefore invalid. Both Premadasa and Dayasiri Jayasekera were to raise issue at this point. Premadasa said whatever the legality was; the move to change the leadership was a continuing process. Jayasekera was to say that he would not accept the party constitution. Wickremesinghe shot back, somewhat in anger, that he could then leave the meeting. He said Jayasekera was estopped from sitting at the Working Committee and not accepting the party constitution at the same time. If there were others who did not agree, they also could leave. Jayasekera rose and was walking out when he was held back by a group of Working Committee members.
Ranjith Madduma Bandara, a frontline opponent of the UNP leader was to speak of the defeats of the party under Ranil Wickremesinghe. He was interrupted by Galle District politician Vajira Abeywardene who exhorted "thamusey vaadi veneva." (Sit down, you fellow). This was to draw angry retorts from Premadasa, Jayasekera and Madduma Bandara himself. The trio urged in different speeches that Abeywardene withdraw the impolite reference. "Even if I withdraw the word thamusey, (you fellow) I will not withdraw what I said," he shot back. Wickremesinghe intervened to ask the NCP opposition leader whether he meant to say thamun naansey (you gentleman). Others who criticised the Premadasa backers included Shamil Senarath (Opposition Leader, North Western Provincial Council) and Daya Gamage (Organiser, Ampara District). Ravi Karunanayake (MP-Colombo District) was to urge that all factions must unite to bring victory to the party at the local polls.
There was also a similar argument with Manjusiri Arangala, (Leader of the Opposition of the Western Provincial Council) and deputy leader, Karu Jayasuriya. Arangala said Jayasuriya should not have entertained ex-PC members when he met a group that included serving persons. Jayasuriya replied that he talked to all party supporters irrespective of whether they held office or not. He said that as a party senior he would share part of the responsibility for the current situation. "Today UNPers are getting assaulted. There is mounting corruption and the country is under a dictatorship. We cannot become tools and work to the dictates of the government," he said. He was "consciously in no one's camp" and wanted to work with all groups, he claimed.
Towards the end of the meeting, UNP Treasurer Senarath Kapukotuwa moved a resolution that the party leader be empowered to take action if he discerned that any member was responsible for breach of discipline. It was seconded by D.M. Swaminathan (UNP – National List). Earlier, when there was a discussion on disciplinary action against Rosy Senanayake (MP-Colombo District), Premadasa rose to make a plea on her behalf. He argued that the local elections were round the corner and it would not be advisable to follow such a course of action. Also pleading on her behalf was Karu Jayasuriya who said he could not agree to her suspension from the party. He said there was a need to follow democratic procedures before suspending a member. It was decided that the empowerment of the leader to take action over discipline violations would be effective from 7 p.m. on Wednesday night. However, the only exception appeared to be the case of Ms. Senanayake, who was already on the mat.
Briefing the media formally on the outcome of the Working Committee meeting was Tissa Attanayake, General Secretary. Here are highlights: "The Working committee meeting was unexpectedly focused on winning the upcoming local elections and towards unity of the party. This was the first Working Committee meeting in accordance with the new constitution. District Representatives and other members met for the first time together. We decided on a framework which the Working Committee will function. In future, the WC will work based on agenda and certain standards to make it a place to review the progress of the party instead of criticizing persons. Responsibilities of party officials will be notified in writing.
"One of the most important decisions was majority consensus at the Working Committee that members should work and act according to the party constitution. This would mean that under clause 8 and 9 it would not be possible to bring disrepute to the party, placing the party in difficult positions, acting in a manner that the party is divided and organizing different groups. It was unanimously decided that disciplinary action will be instituted if such violation takes place.
"Accordingly there cannot be public criticism of the party, or persons creating various factions in the party. It was also decided to hold an inquiry into the comments made by MP Rosy Senanayake that the Working Committee is not legally constituted. The report will be submitted to the WC. We also decided to work as a team to win the upcoming local elections including the MC election in Colombo. People expected divisions at the WC and that there would be problems. However, there were no such divisions. Sajith Premadasa said that his aim was that the party should carry on united. Jayasuriya too said that it was his aim to work united for the progress of the party."
Premadasa faces barrage of questions
With the end of the WC meeting, the tenor and composure of Premadasa and his allies had changed. Premadasa faced a barrage of questions. The answers he gave reflected the mood in the dissident group.
Q: What was the outcome of the WC meeting?
A; We made suggestions and proposals towards one goal and with one objective. That is to bring the UNP together. Basically as far as the proposals are concerned it is an on-going thing, there is an internal party debate that is taking place. The debate will go on, but we will make sure that we will put all our energy to achieve victory at the next elections.
Q: Do you believe that under Ranil Wickremesinghe leadership that victory can be achieved?
A: Well the status quo is as such, the main priority is that the party emerges victorious, but we will ensure that it is unity that achieves victory. It will be achieved. Still there is an internal debate going on, there are various proposals, the ultimate objective is to make our party to come into power. We want to create a winning combination. We do not want to drive anyone out.
Q: What is the position of Rosy Senanayake?
A: Regarding Rosy Senanayake a complaint has been made by Senarath Kapukotuwa. That is not new. The truth will come out as the inquiry is made.
Q: Are you ready to work under the leadership of Wickremesinghe to gain victory?
A: I am ready to work towards the victory of the UNP. To come to the winning path we need to make changes. For those changes we need to make our views clear. For this purpose the matters were discussed at the Working Committee meeting.
Q: Mr. Attanayake said that disciplinary action will be taken (under clause 8 and 9 of the UNP Constitution) if members criticize the party. Your response?
A: I think a single member in the working committee will not remain if the clauses are implemented. But our views will be expressed. Despite debates we will work towards the victory of the party and will not trade this to the government.
Q: You tried to bring Karu Jayasuriya as the leader. What is the position now?
A: This is a process. A meeting is only one event. There is a series of processes. Today's issue is winning the upcoming elections. The activities will be on-going; we will put forward our proposals and exchange ideas. We will make sure we will bring all our heads together to emerge victorious.
Q: Regarding Mr. Jayasuriya's role.
A: I am sure he is there to bring unity, but not for the sake of unity but unity that serves the purpose of emerging victory.
Q: During the day you mentioned that Mr. Wickremesinghe had a deal with the government. Did you speak about this at the WC.
A: I do not want to elaborate what I spoke. I wish to state all views were expressed. I do not want to talk separately on the issues which I discussed.
It is therefore clear from the answers Premadasa gave, that he has two positions — one in front of both the public and the TV cameras. The other is behind them. At the Town Hall meeting he was vociferous that no victory was possible without a change in leadership. However, just after the Working Committee meeting he says "today's issue is winning the elections."
Hardly 24 hours after the WC meeting, the dissidents struck again. Five UNP parliamentarians held a joint news conference and criticised Wickremesinghe in a flagrant act of courting disciplinary action. Here are extracts of comments made by them:
Dunesh Gankanda: "All we want from Mr. Wickremesinghe is that he abides by the constitution drafted in December last year. Ms. Thalatha Athukorale's and my grandfather were pioneers in the UNP in 1947 in Ratnapura. I want to question Wickremesinghe whether he has sacked us from the party which we are safeguarding now".
Thalatha Athukorala: "There was no decision to take disciplinary action against four members as reported in newspapers but discussions regarding the legality of the Working Committee took place. It was only decided to take disciplinary action against Rosy Senanayake. All she did was to request Wickremesinghe not to violate the constitution drafted last December 12."
Sujeewa Senasinha: "I only read about the disciplinary action being instituted against me in six newspapers. I can sue them but will not do it. Some media are in the habit of not broadcasting adverse comments about Rajapaksa and I call on them to be straightforward. I have no deals with the government but will vouch that we will not look back till victory is achieved.
Buddhika Pathirana: "By now Ranil and Mahinda have signed an agreement which we call 'Tar-Carpet' agreement. Normally when a road is under repairs, it is closed with two barrels. Yesterday there were two barrels opposite Siri Kotha. This is a clear sign of the 'Road carpeting Agreement' between Ranil and Mahinda. The SLFPers have questioned this. That is the reason now for an inquiry.
Rosy Senanayake: "Sajith (Premadasa) brought people from all over to Colombo on Wednesday. At the Siri Kotha meeting there were moves to throw me out from the party. But the two deputy leaders wanted it minimized to a disciplinary inquiry. If I am ousted I will bring 500,000 people to Colombo".
Needless to say the five MPs will now become liable for disciplinary action. Wickremesinghe is empowered with a mandate from the Working Committee to take disciplinary action against those whom he deems have violated the UNP constitution. Premadasa himself has endorsed this decision having taken part in the WC meeting and not voted against the resolution. The question is whether Wickremesinghe will act against the five. He is already under fire from his own supporters in the party for his reluctance to act swiftly and decisively against dissidents. "Discipline in the party has gone to the dogs, and with it the party also has also gone to the dogs," one of them said bitterly.
Some of them pointed out that their former leader J.R. Jayewardene faced a similar situation when he took over the reigns of the party while in opposition after the death of Dudley Senanayake. There was a group that egged Rukman Senanayake, who had taken over the mantle of his famous uncle and the Senanayake clan to challenge the leadership of Jayewardene. They tried to canvass the support of Dudley Senanayake loyalist and then joint general secretary of the party, Gamani Jayasuriya to lead the dissident group, but that Mr. Jayasuriya had told young Rukman to make his voice heard within the party, and refused to give leadership to that cabal.
J.R. Jayewardene eventually 'bit the bullet' and took a hard decision. He took disciplinary action against Rukman Senanayake taking the risk of losing support of the then formidable Senanayake support base within the party. The rest is history; Jayewardene went on to lead the UNP to a resounding victory at the 1977 general elections and Rukman Senanayake was in the political wilderness for years.
Ravi contradicts Ranil
Wickremesinghe's problems worsened when a trusted colleague and vociferously anti-Premadasa element, Ravi Karunanayake in an interview to Sirasa contradicted somewhat forcefully what Wickremesinghe told the news conference last Monday. Wickremesinghe had charged that the Maharaja Organisation, that was trying to buy MPs had wanted to nominate two persons on the UNP National List at the last general election. However, Karunanayake has insisted that such a claim was "preposterous." The TV/radio stations made a heavy meal out of the statement to pooh-pooh Wickremesinghe's claim. On Friday, Wickremesinghe met Karunanayake to clarify matters and to caution him. Here are edited excerpts of what Karunanayake said which was played on both radio and Sirasa TV. The programme began with an introduction which said "Here is the truth:"
"I thank you very much for giving me this opportunity to clear a matter which has gone too far. I need to clear it because it is one of our solid friends (Karunanayake names a key figure in the management at Maharaja Organisation) and the leader of our party. Firstly, it is preposterous to say there is an issue where two National List seats were offered at the behest of MTV or any person. That is not the case. As a matter of fact, it all revolves around Sri Ranga (former MTV Tamil anchor and UNP parliamentarian who crossed over to the UPFA) and this was during election time.
"There was a necessity to ensure we do our best in a trying situation to beat the government. In that instance we needed the best of teams. So best of teams needed the best of people. To ensure this happens Sri Ranga's name came about. At that moment, both Mano Ganeshan and Rauff Hakeem thought Sri Ranga's support coming from Nuwara Eliya would help the party. We were able to ensure it to put the party in a winning mood.
To this particular extent Sri Ranga was spoken to since he is a personal friend of mine. I spoke to obtain his support for the UNP. This was with the knowledge of very many. At that particular moment he came forward and said "Look, I have to contest with another two people."
"There was no possibility to do this, as it was an amalgamation of parties and there was no seat available. Neither Sri Ranga nor anybody else asked for any seat from the National List since there was no necessity. Sri Ranga had the ability to stand on his own……."
Wickremesinghe has blessings of govt.
While Karunanayake's assertion flies in the face of what his party leader said, Wickremesinghe needs the former's support to keep Premadasa checked so he seems to have let him off lightly. In the eyes of the grassroots level UNP supporters, the fact that Wickremesinghe has all the blessings of the government and not the entirety of his party, is, to say the least, not a healthy sign. It can only keep the average UNP voter who seeks no government help or patronage away from the party. And the erosion of that grassroots level support is highly damaging to the UNP. That is at a time when polls are pending for 23 local councils.
Wickremesinghe seems aware that such a tag on him is not in his own interest or his party's interest. He was to meet this accusation again by hitting out at the Maharajah Organisation. He told partymen that when they received information that Sirasa was carrying advertisements calling for a satyagraha outside Siri Kotha, he conferred with his party seniors and they gave a directive to the general secretary Tissa Attanayake to inform the police that the party had not organised such an event and there were people trying to sabotage their Working Committee meeting. He said that was the only legal recourse they had, i.e. to inform the police and request them to allow them to hold their meeting. On the other hand, he said, the Maharajah Organisation had one of the biggest pandals for Vesak to commemorate the 2600 Sambuddhatva Jayanthi celebrations in May, and whom did they invite to declare it open — Defence Secretary Gotabaya Rajapaksa. "We had no option but to ask the police for help. They had an option of whom to invite. So, who is playing ball with the government", he asked.
As for Karu Jayasuriya, who has tried hard to project himself as a neutral umpire seeking only unity, the slip is showing. True, he has declared he has no desire to replace Wickremesinghe. However, he is yet to deny Premadasa's public claim that he had agreed to change the party leader Wickremesinghe and lead the party instead. To make matters worse, the parliamentary group resolution calling for the ouster of Wickremesinghe, which Wickremesinghe said was invalid, was drafted at Jayasuriya's own Amerasekera Mawatha residence in Colombo 5. And this is not the first time he has volunteered to head a pack crying for Wickremesinghe's head.
For the dissident group led by Premadasa, playing Dr. Jekyl and Mr. Hide, unsure of how exactly to depose Wickremesinghe has been a costly game. Besides raking up clouds in UNP's political firmament, they have little or no clear cut strategy in achieving what they claim are their objectives. And again, those objectives keep changing too. The more they continue with what Wickremesinghe calls is their "circus", the more they will hurt the party and help the UPFA. The young Turks seem no match to the old veterans who have seen and been in the thick of political manoeuvring for some time now. And, coupled with the sudden "respect" the government has developed for the office of the leader of the opposition, it is indeed an uphill task for the dissidents to oust Wickremesinghe so easily from his perch. "He is stuck to his seat with super-glue", a WC member loyal to him said with a giggle after the week's drama.
(For updates you can share with your friends, follow TNN on Facebook, Twitter and Google+)