US ignores report to 'better' relations with Lanka
By Namini Wijedasa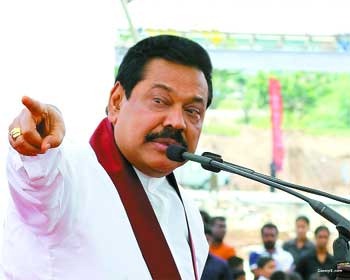 Two years ago, a report released by the US Senate's Foreign Relations Committee encouraged President Barack Obama's administration to seek a more positive relationship with Sri Lanka, asserting that the United States could not afford to "lose" the strategically placed Indian Ocean nation.
'Sri Lanka: Recharting US Strategy after the War' was a bipartisan report endorsed by Senator John Kerry, the committee chairman, and Senator Richard Lugar, the ranking Republican member. It advised the Obama government to consider a new approach that would increase US leverage in Sri Lanka and help secure longer term US strategic interests in the Indian Ocean.
The two Senate Foreign Relations Committee staffers that drafted the report were concerned that, with Western countries becoming increasingly critical of the Rajapaksa administration, Sri Lanka was growing politically and economically isolated from the West.
This drift, they warned, will have consequences for US interests in the region primarily because Sri Lanka was positioned at the nexus of crucial maritime routes. The US, China and India shared an interest in securing maritime routes. But the US, they pointed out, has invested relatively few economic and security resources in Sri Lanka, preferring to focus instead on the political environment. "Sri Lanka's geostrategic importance to American interests has been neglected as a result," the report said.
The report recommended that the Obama administration adopts a multidimensional approach so that US policy was not driven solely by short-term humanitarian concerns but "rather an integrated strategy that leverages political, economic, and security tools for more effective long-term reforms." Among other things, it said the US should also invest in Sinhalese parts of the country instead of just focusing aid on the Tamil-dominated North and East. And it felt Congress should proactively review military spending as a component of its financial programmes with conflict countries.
A heavy-handed approach
Western human rights and advocacy groups that continue to support a heavy-handed approach towards Colombo trashed the report. By the yardstick of current US reactions towards Sri Lanka, the Obama administration has ignored it too. Politicians here express anger, resentment and regret at what they perceive to be a policy of harassment that focuses on war crimes allegations, human rights and a political solution at the expense of everything else. Instead of engaging proactively with Sri Lanka, they say, the US is increasingly clamping down.
Reports refer to US criticism, to threats and pressure, to interference and to disrespect for Sri Lanka's sovereignty. There is lately some speculation also of economic sanctions. While official statements from either government preserve diplomatic decorum and speak of enduring ties, the spoken rhetoric is far less couched. In reality, relations between Washington and Colombo are not on a positive trajectory.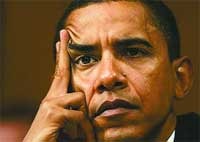 A news story recently said the US has delivered a demarche to Sri Lanka that it wants the final report of the Lessons Learnt and Reconciliation Commission discussed at the 19th sessions of the UN Human Rights Council in Geneva in March next year. This is not something Colombo has even remotely considered. Instead, the government hopes to keep Sri Lanka completely out of the special agenda of the UNHRC.
Meanwhile, US aid to Sri Lanka remains lopsidedly and disproportionately concentrated on the North and East with contributions towards housing and shelter, food, agriculture and livelihoods, mine action, water and sanitation, health and education, civil administration and land issues. This contrasts starkly with the approach of countries like Japan that offer assistance to all parts of the country in the belief that an equitable sharing of the "peace dividend" will promote post-war reconciliation.
But the Sri Lankan government's main grudge with the US remains its "undue" obsession with investigating alleged war crimes and its "unreasonable" focus on human rights.  It would much rather have aid from the US, for which the need is great, than strictures. Well, tough luck.
As recently as August 9, 2011, US State Department Spokesman Victoria Nuland answered a question at the daily press briefing by stressing that if Sri Lanka does not mount a war crimes investigation that meets international standards quickly, "there's going to be growing pressure from the international community for exactly the kind of international action that Sri Lankans say they don't want." It was viewed as hardening of the US position.
A long, tedious process
Two days later, also in response to a question at the daily press briefing, she reiterated that if an accountability mechanism is not established expeditiously, "then we reserve the right to discuss international mechanisms."
International mechanisms for war crimes investigations are limited, complicated, poorly resourced and will have to be funded by governments. The appetite for such initiatives, when push comes to shove, is also low. To refer Sri Lanka's case to one such mechanism would involve a long, tedious process that will possibly see the international community mobilized – and split – along several lines.
For one thing, it will lead to intense Sri Lankan lobbying that will further expose the East-West divide. Questions will be raised and examined about the sovereign rights of developing nations to end conflict within their territories. The decisions each country takes will necessarily be guided by self-interest, something that is often at odds with US interests.
Regardless of this, Washington is likely to maintain pressure and this will only increase Colombo's irritation with the West. But what is the US's problem? For a large nation with its own problems, the US seems to be spending an awful lot of time and energy stressing out about Sri Lanka. Authoritative US sources based in Washington offered some clarity strictly on the basis of confidentiality.
One source admitted that the United States does place great importance on its relationship with Sri Lanka and hopes to continue to building a long-term partnership. "We worry about Sri Lanka because we see a lot of potential in the relationship, but one of the big hurdles to moving the relationship forward in a meaningful way is the credible allegations that were outlined by the UN in its panel of experts' report, and the lack of a credible accountability and investigative mechanism to investigate such allegations," he said. In other words, the US can't do "the China thing:" pursue a mutually beneficial strategic alliance and to hell with everything else.
Ultimately, Washington does want closer interaction with Colombo on more cheerful business. But it is difficult to crack the whip, dangle the carrot and hold out the hand of friendship all at the same time.
More pressure on Colombo
Since the war with the LTTE ended in 2009, the US has tried several approaches to get Sri Lanka to investigate allegations of war crimes. Apart from regular pronouncements that have become harsher with time, the US State Department in October 2009 released a report on possible war crimes that backed the need for an independent international investigation.
But this document – that served as an inventory of incidents that reportedly occurred during the concluding stages of the conflict – "disappeared" after the Sri Lankan government appointed a committee to look into the allegations it raised. Nothing came out of that committee either.
The US has tried other things. Most recently, Congressman Howard Berman from California proposed an amendment to the State Department Authorization Bill to limit financial assistance to Sri Lanka until the Secretary of State certifies that the government is making demonstrable progress in the areas of accountability, reconciliation, withdrawal of emergency regulations, and press freedom. The assistance to be pruned down does not include humanitarian assistance, democracy and governance funds, and funds specific for demining efforts.
The amendment was passed unanimously by the Committee on Foreign Affairs and incorporated into the larger State Department Authorization Bill which was also voted out of the Committee on Foreign Affairs on July 21. Sources in Washington said the bill now awaits a vote by the entire House of Representatives. Once it is passed, the Senate must act by taking up a similar bill. If there are differences between a House and Senate version, then a conference is called to iron out the differences. Once there is a version both chambers can agree on, then it will be voted on in both chambers.  The bill is then sent to President Obama for his signature and then enacted into law. It would be effective for one year.
The sources rejected the contention these were economic sanctions against Sri Lanka. "It doesn't touch humanitarian, democracy and governance, or funds specific for demining efforts," one said. "The amendment also includes a waiver provision that would allow the Secretary to waive the limitation. For example, as the government has announced, the emergency regulations are ended by year's end, already one of the certification requirements will have been met."
(For updates you can share with your friends, follow TNN on Facebook, Twitter and Google+)