Indian conference for Tamil parties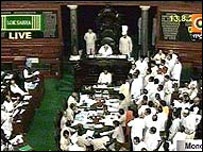 A conference aimed at bringing the Tamil parties on a common platform for the welfare of Tamils in Sri Lanka is being organised by a group of Indian Parliamentarians.
The conference on "Agony and Solace" is organised by the Indian Parliamentarian Forum on Human Rights-For Global Development-PFHRGD in the capital New Delhi on 23 and 24 August.
Organisers PFHRGD say this conference would bring the Tamil Parties together in formulating a proposal on finding a permanent solution to the decade's long ethnic conflict in Sri Lanka.
The convenor of the conference Dr EM Sudharshana Nachiappan a law maker from Tamil Nadu in the upper house of the Indian Parliament has said that this conference hopes to consolidate the views in unanimity which would be taken forward towards finding out a sustained solution of the ethnic divide.
No EPDP
"Over the past 60 years Tamils in Sri Lanka are facing political problems and are still concerned regarding the safety of their life and property," he wrote on the organisations website.
The issues discussed and proposals put forward would be taken to the Indian Parliament for the attention of its members he further mentioned.
PFHRGD comprises over 100 members of parliament cutting across various parties and affiliations.
With the exception of the EPDP and its leader, Minister Douglas Devananda almost all Tamil parties in Sri Lanka has been invited to the two day seminar.
Analysts say that the conference has the covert support of the Indian establishment, who also point out that a consensus emerging out of the conference is also doubtful given the deep rooted rivalry and difference of opinion among the Tamil Parties.
Tamil Parties in Sri Lanka were generally classified as either pro-LTTE or anti-LTTE during the war time and such a feeling even exists today.
(For updates you can share with your friends, follow TNN on Facebook, Twitter and Google+)