Mass arrest following attack on military camp
One hundred people were arrested on Monday in northern Sri Lanka after clashes with government security forces.
Deputy Inspector General, Gamini Silva confirmed the arrest of one hundred villagers from Navanthurai.
Villagers in Navanthurai in Jaffna pursuing suspected nocturnal prowlers had attacked a local army detachment.
'Grease devil' in army camp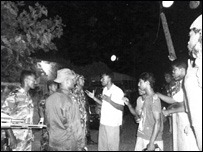 The villagers were taken to custody after they attacked the police who were trying to prevent angry villagers from attacking the military camp.
"We were pursuing grease devils who came to the village. They ran in to the army camp. We were demanding the security forces not to give sanctuary to grease devils." villagers told the BBC.
"Army fired warning shots. Only then did we start pelting the camp". Say the villagers.
Police spokesman Prishantha Jayakody, say the attack was unprovoked. "People had attacked the army camp without any reason whatsoever. There were no prowlers".
Attack for no reason
"Two police vehicles were damaged and four officers were wounded in the attack. The story of the prowlers entering the camp is not true. Tamil and Muslim villagers had just got together and attacked the camp and the police." the police spokesman told the BBC Sinhala Service.
Villagers also complained about military retaliation."In the middle of the night, army came to the village. They broke in to the houses and dragged the men and took them away". Navanthurai vilagers told the BBC.
(For updates you can share with your friends, follow TNN on Facebook, Twitter and Google+)