Sri Lankan President Rajapaksa scraps emergency laws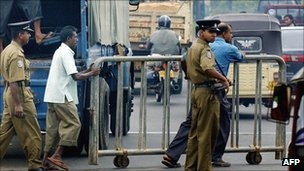 President Mahinda Rajapaksa of Sri Lanka has lifted the country's state of emergency in a speech made to parliament.
The president said he was "satisfied that there is no need to have the state of emergency any more".
Different emergency laws have been in place for 28 years to deal with the Tamil Tiger separatist movement. The rebels were defeated in 2009.
The laws gave security forces sweeping powers of arrest and detention.
They have been renewed on a monthly basis – with only intermittent breaks – ever since they were first imposed.
"To carry forward the day-to-day activities in a democratic way, I propose there is no need of emergency regulations any more," President Rajapaksa told parliament on Thursday.
"There has been no terrorist activities since the end of the war in May 2009," he said.
"I am satisfied that an extension of emergency is not required any more. So I inform [the parliament] that we will not extend the emergency any more."
Critics say the laws were widely abused by the authorities to silence anti-government activists.
(For updates you can share with your friends, follow TNN on Facebook, Twitter and Google+)