US welcomes Sri Lanka's move to scrap emergency law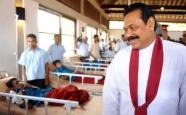 The United States on Thursday hailed as positive the move by Sri Lanka's President Mahinda Rajapakse to scrap emergency laws imposed 28 years ago to deal with the armed Tamil separatist movement.
"We do welcome the news that … Rajapakse has proposed to the parliament that the emergency laws be withdrawn, and we do see this as a positive step for the Sri Lankan people," State Department spokeswoman Victoria Nuland said.
Rajapakse's move means the laws which give security forces sweeping powers of arrest and detention will lapse at the end of August, but similarly tough powers remain available to authorities under the Prevention of Terrorism Act.
The president's move comes as Sri Lanka faces growing pressure over its human rights record, particularly with reference to the Tamil conflict.
Nuland said it "sets up a good visit" for Robert Blake, US assistant secretary of state for South and Central Asian Affairs, who will travel to Sri Lanka from August 29-31.
He will speak to a "broad cross-section of Sri Lankans, both to the government and to human rights groups" and non-government organizations about the emergency law and related issues, Nuland said.
He will meet government officials, civil society representatives, university students, and political leaders in the capital Colombo. She said he will also visit Sri Lanka's ethnic Tamil heartland of Jaffna in the north.
"We continue to urge the government of Sri Lanka to meet its international humanitarian law and international human rights law obligations," Nuland said.
"And we continue to say that if they cannot do this nationally, then the international community will have to step in. Bob Blake will be talking about all these issues on his visit," she said.
(For updates you can share with your friends, follow TNN on Facebook, Twitter and Google+)