Krishna beats around the bush in Lok Sabha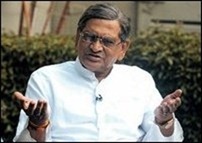 Finding India's External Affairs Minister SM Krishna beating around the bush on the question of Eezham Tamils, during discussions in the Lok Sabha on Friday, DMK's TR Baalu who tabled the topic for discussion raised three specific questions: 1. Whether the Government of India have any relevant information for a time-bound political solution as per the 13th Amendment, and that too in the context of a statement by the [SL] Defence Secretary, who has said, "LTTE has gone, political solution not necessary? 2. Whether the Government of India will come forward to plead before the United Nations Organization for an enquiry by an international agency pertaining to the large-scale human rights violation? 3. Is it not your responsibility to expose the perpetrators before the world as war criminals for having committed human rights violations? But, Krishna had no direct answers.
"These are the questions for which he has to answer. I am the mover of the motion," Baalu insisted.
As Krishna was only deviating, Baalu told the Speaker, Ms. Meira Kumar, "Madam, I had asked three questions and he is not answering to those questions."
Baalu at one stage commented that the External Affairs Ministry uses a very flowery language [to beat around the bush] and he [Krishna] is going by whatever the External Affairs Ministry officials have briefed him.
At the end of the discussion, addressing the Speaker, Krishna said: "Madam, I am amazed at Mr. Baalu's interpretation. I am the External Affairs Minister of this country. I have the brief from the External Affairs Ministry and I have to go according to the brief. I cannot create surprises. We are dealing with the relationship between two sovereign countries and, I think, that has to be appreciated."
The External Affairs Ministry is more controlled by the National Security Advisor Shiv Shankar Menon than by Mr. Krishna, the former chief minister of Karnataka, informed circles say.
As conceded by Mr. Krishna, he had nothing new to tell other than the usual rhetoric of listing out what India has done for the 'rehabilitation' of Tamils – tractors, railway lines, harbours, stadiums, cultural centres etc., verbal concerns for human rights, taking up the issue of UN panel report on war crimes 'without endangering India's relationship with Sri Lanka' if it manages to come to a UN forum, and finally a lasting political settlement in Sri Lanka within the framework of a united Sri Lanka, acceptable to all the communities in Sri Lanka including the Tamils.
The hard truth implied in Krishna's speech is that unless the ruling junta in New Delhi is convinced that endangering its relationship with Tamils inside and outside of India is worse than endangering its relationship with Sri Lanka, nothing righteous is going to take place, commented political activists in Tamil Nadu.
(For updates you can share with your friends, follow TNN on Facebook, Twitter and Google+)