Wikileaks: Captive Tamil doctors "coached" to recant casualty figures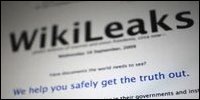 Two WikiLeaks cables from U.S. Embassy in Colombo, released to the public last week said that four Tamil doctors who worked with the injured civilians during the last months of the war, and who recanted the casualty figures at a Sri Lanka Government organized press conference, had told the US Embassy officials that "they were heavily coached for the press conference [by Colombo], given specific lines to say, and even practiced with several members of the local media beforehand. They said they had not lied when giving their original statements during the war."
PDF: WikiLeaks: Doctors coached to recant figures
The memo sent by the US Embassy official in Colombo was dated Monday, 24 August 2009, same day after the doctors were released on conditional bail.
The doctors released were Ki'linochchi Regional Director of Health Services (RDHS) Dr. T. Sathiyamoorthy, Mullaiththeevu RDHS Dr.Thurairaja Varatharajan, Dr. Ilancheliyan Pallavan of Puthukudiyiruppu government hospital and Mullaiththeevu Medical Superintendent Dr. Kanapathipillai Shanmugarajah. The fifth doctor, Dr. S.Sivapalan, was still under detention.
"The release of the four doctors is a welcome step by the GSL, but clearly they remain under investigation by the CID and now also are potentially under threat of abduction or extrajudicial killing. Post will continue to monitor the situation very closely, but for now the doctors appear to want to maintain as low a profile as possible, without undue attention brought to them either in Sri Lanka or internationally," the Embassy memo added.
Another US Embassy cable sent on the 25th June 2009, after the doctors reacanted the casualty figures, commented: "The dead and wounded figures given by the doctors at the July 8 press conference would appear to underestimate the true number of casualties during the final months of conflict in the no-fire zone. The GSL appears to be continuing its efforts to downplay the extent of civilian suffering during the last weeks and days of the war."
The memo said that a senior contact in the CID was demoted because he had worked to improve the detention conditions of the doctors and apparently had expressed too strong of a desire to improve their welfare.
The memo mentioned that Sri Lanka's Defense Secretary had indicated to the US Ambassador that it would probably not be safe to free the doctors until "after passions had cooled."
(For updates you can share with your friends, follow TNN on Facebook, Twitter and Google+)