Canada's TYO hosts landmark Ki'liththaddu tournament
Tamil youth teams from across Canada assembled in Toronto on Sunday, August 28th, 2011 to play Ki'liththaddu, recognized as one of the national games of Tamileelam. The tournament where teams vied to win Tamileelam Heritage Trophy was a TYO-Canada's initiative, and was organized to promote and preserve Tamil identity, tournament organizers said. The game originated from the agricultural roots of Eelam Tamils is played by people of all ages in Tamileelam.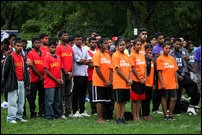 "The tournament brought hundreds of youth who have never played the game together to learn something that is part of Tamil identity. Through this tournament we have taught and educated our youth a small piece of our heritage" said Priyanth Nallaratnam, one of the youth organizers.
Over 25 teams participated in the tournament. The highlight of the tournament was the number of university, college and high school teams that participated in the tournament.
Participating teams named their respective teams based on Tamil identity. The tournament was divided into two groups, allowing for novice players to have a platform to participate in the competition.
"Preserving our identity is extremely important. The Tamil Students' Association at the University of Toronto Scarborough Campus decided to name our team after Captain Miller, the first Black Tiger. He was revered within the Tamil community, and we wanted to celebrate his selfless contribution to our struggle.
"We thoroughly enjoyed the camaraderie and the rivalry, and are thankful to TYO-Canada for hosting such a great event. We will definitely come back next year in hopes of winning the Tamileelam Heritage Trophy," said Vithurren Sivaloganathan, the captain of the Miller Inferno.
We appreciate and encourage initiatives like Ki'liththaddu to cherish our identity. It is great that we have a platform now to learn and be educated about our own history, identity and heritage" said Roshan Alisterosario, an athlete attached to the Eelam 89ers.
The Eelam 89ers emerged as champions of the Tamileelam Heritage Trophy for the beginners group and Team Ankayarkanni for the competitive group
(For updates you can share with your friends, follow TNN on Facebook, Twitter and Google+)