Top US envoy to visit Lanka
The US is dispatching a top envoy to Colombo for talks next week ahead of a crucial UN meeting to discuss alleged war crimes in Sri Lanka, diplomats said yesterday.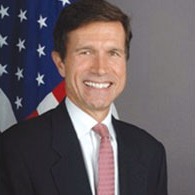 US assistant secretary of state Robert Blake will be visiting Sri Lanka for a second time in four months to talk about war crimes allegedly committed in the final stages of the conflict that crushed the Tamil Tiger rebels in 2009, diplomats said.
"He will meet with government officials, civil society representatives, university students and political leaders while in Sri Lanka," the US state department said in a statement.
Blake, the top US diplomat for South and Central Asia who also served as an ambassador to Sri Lanka, has urged President Mahinda Rajapakse's government to set up a "credible" system to punish wartime rights violations in order to escape international censure.
"He has already made it clear that Sri Lanka risks an international probe unless it starts a credible internal process to investigate the allegations," a diplomatic source said.
The announcement of Blake's visit came after Rajapakse on Thursday announced that he would scrap draconian emergency laws imposed nearly 30 years ago to deal with the armed Tamil separatist movement.
The law allowed detention without trial and sharply curbed other civil liberties.
US state department spokeswoman Victoria Nuland said that Thursday's announcement by Colombo "sets up a good visit" for Blake, who will travel to Sri Lanka from August 29 to 31.
Government officials said Sri Lanka is keen to avoid a discussion on its rights record at the next session of the UN Human Rights Council in September.
Tens of thousands of civilians perished in the final months of fighting against the Tamil Tigers, and the UN has said there are "credible allegations" of war crimes committed by both sides.
Colombo has persistently denied any wrongdoing and resisted foreign calls for a probe.
The Tamil Tigers had spent four decades fighting for an independent homeland for the island's ethnic Tamil minority in a conflict that claimed up to 100,000 lives.
Australia, which has a considerable Sri Lankan Tamil population, said it welcomed Sri Lanka lifting of the emergency as "step in reconciliation and normalisation after years of conflict in Sri Lanka."
Maldivian President Mohamed Nasheed, who spent three days in Colombo last week on an official visit, described Rajapakse's announcement as a "bold and far sighted move".
(For updates you can share with your friends, follow TNN on Facebook, Twitter and Google+)