At UN, Screening of Rajapaksa's Response to "Killing Fields of Sri Lanka," Itself Neven Shown in Ban Ki-moon's UN
After the bloody final stage of conflict in Sri Lanka in 2009, alongside stalled action at the UN and its Human Rights Council, a documentary was made. This "Killing Fields" film about Sri Lanka has still apparenlty not been seen by UN Secretary General Ban Ki-moon. Nor was it ever screened inside the UN, but rather across First Avenue in what's called the Church Center.
But tellingly, this notice reached Inner City Press on September 1
"inviting all UN Correspondents to attend the screening of the documentary 'Lies Agreed Upon,' on Tuesday, September 6th at 2:00pm in the Dag Hammarskjold Auditorium. Ambassador Dr.Palitha Kohona and Ambassador Major General Shavendra Silva of the Permanent Mission of Sri Lanka will be present for a Q&A session following the screening. Sri Lankan Authorities state 'This video directly challenges the assertions contained in the CH-4 video, Sri Lanka's Killing Fields.'"
  While there is more to report on this strange screening, what most obviously jumps out is that a screening inside the UN is being given to a response film which " directly challenges the assertions contained in" another film which was never shown inside the UN.
  This might be seen as propaganda, or as indicative of Ban Ki-moon's UN. Inner City Press has five times asked if Ban had taken the time to see "Killing Fields," which is critical of the performance of the UN and Ban himself in the final stages of the Sri Lanka conflict.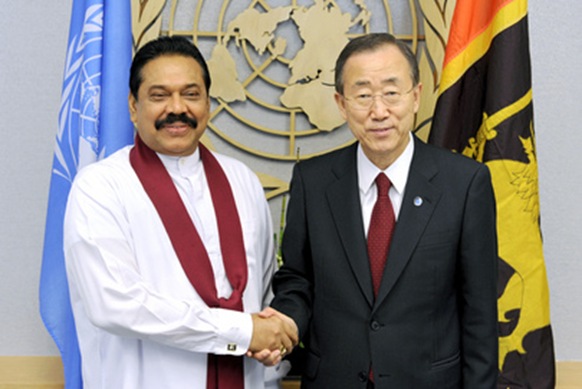 UN's Ban & Rajapaksa, Killing Fields not seen, but rebuttal to be screened
  Ban's now departed deputy spokesman Farhan Haq belatedly replied that Ban had been given a DVD copy which he would watch when he had time. But this has apparently still not occurred, by contrast to a screening for Ban, his family and staff of the film "The Whistleblower" which criticizes the UN under Ban's predecessor Kofi Annan.
   The Whistleblower was shown in the UN, unlike "Killing Fields," which because the request conflicted with Ban Ki-moon's re-appointment in the General Assembly was not screened inside the UN, and moved across the street.
(For updates you can share with your friends, follow TNN on Facebook, Twitter and Google+)