Indian railway aid helps Colombo to wedge North and East
Sri Lanka occupying the country of Eezham Tamils proposes to lay a railway link between Mannaar and Trincomelee through Medawaachchiya in the Sinhala territory of North Central Province, while the shortest link between the two cities is through Vavuniyaa in the north. As the railway line between Thalai Mannaar and Medawaachchiya has been restored with Indian assistance, Colombo now plans to extend it to Trincomalee through the North Central Province. The link of Thalai Mannaar in the Palk Bay and Trincomalee in the Indian Ocean is strategically important to Indian interests as Trincomalee could be directly linked through land and a short ferry with the Indian railway network coming up to Raameaswaram. But the link planned through Sinhala territory aims to structurally wedge the Tamil country and Sinhalicise the Tamil port cities.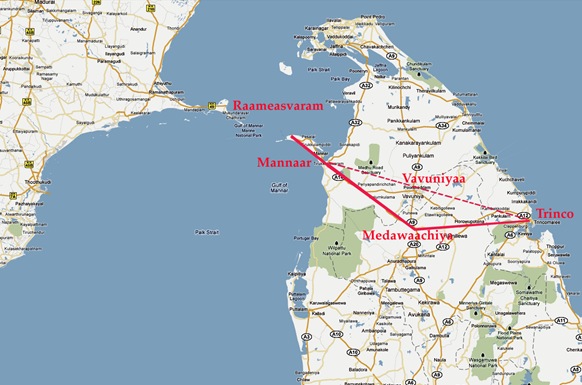 Colombo's cabinet last month approved a proposal by SL Transport Minister to award a contract to Colombo University to come out with a feasibility report on a 90 km rail link between Medawaachchiya and Trincomalee.
The Indian Government that often talk about its aid in building railways in the north as its contribution to rehabilitation of Tamils in the island actually contributes to structural disintegration of the territoriality of the nation of Eezham Tamils, Tamil politicians in the island pointed out.
Instead of restoring the Thalai Mannaar – Medawaachchiya link India should have proposed a direct link to Vavuniyaa if it had really cared for the Tamils in the island, the Tamil politicians further said.
Even on an earlier occasion Indian Railways helped linking the eastern Tamil cities Trincomalee and Batticaloa through Sinhala territories.
So far India has not done any thing to structurally integrate the land of the country of Eezham Tamils in the island. On the contrary, thinking only of its own strategic inroads, it collaborates with Colombo in the structural genocide of Eezham Tamils. But it has the audacity of projecting such intrigues as its compassionate aid to Eezham Tamils, commented a Tamil political activist in Trincomalee.
(For updates you can share with your friends, follow TNN on Facebook, Twitter and Google+)