GSP suspension still remain in force – US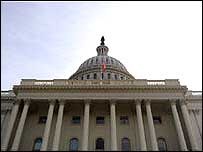 The United States says that the suspension of trade concessions to Sri Lanka is still in force.
Rejecting media reports in Colombo that the US has decided to restore the withdrawn Generalized System of Preferences (GSP) facility, the US says that the Congress is yet to vote on reinstating the facility.
"GSP has lapsed in the past and historically Congress has renewed the benefits retroactively," a statement by the US embassy in Colombo said on Sunday.
The GSP program under which Sri Lanka received preferential access to the US Market has been temporarily suspended since January 2011 pending congressional approval.
$147 million benefit
"Congress may renew GSP this calendar year, but the decision to approve GSP benefits must be taken by the U.S. Congress and it has not yet done so," the US embassy said.
US says that GSP is a program designed to promote economic growth in the developing world by providing preferential duty-free entry for up to 4,800 products from 129 designated beneficiary countries and territories, including Sri Lanka.
Sri Lanka benefited from GSP treatment on approximately $147 million of goods to the US in 2010.
US government had a public hearing in August 2010 as part of the GSP review process on a petition by US labour organisations calling to remove Sri Lanka from the list of beneficiaries.
American Federation of Labor and Congress of Industrial Organisations (AFL-CIO) filing the petition on behalf of seven Sri Lankan trade unions has complained on violations of workers' rights in Sri Lanka.
Sri Lanka is the 14th largest user of the US GSP programme among developing countries and according to US government, it "benefited by an approximately $116 million worth of goods" under the US GSP system in 2009.
(For updates you can share with your friends, follow TNN on Facebook, Twitter and Google+)