HRW criticise the new laws
A week after Sri Lanka lifted a longstanding state of emergency, an international campaign group, Human Rights Watch, has said the move means little because of other stringent laws still in place.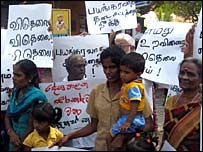 The criticism comes after some countries guardedly welcomed the scrapping of the emergency, which happened just before Sri Lanka is due to be discussed at the UN Human Rights Council.
"draconian" and "abusive"
Human Rights Watch says that even with the long emergency gone, the Sri Lankan government will retain what it calls "draconian" and "abusive" powers of detention through its Prevention of Terrorism Act.
The PTA allows people to be arrested for what it calls "unlawful activity" and held for up to 18 months without charge, merely coming before a magistrate every three months.
Last month, as it was announced that the emergency would go, the outgoing attorney-general told the BBC this would trigger the release of long-term prisoners – apparently a reference to Tamil Tiger suspects.
Long term prisoner release
However he later told journalists that no such people would in fact be freed. New laws have just been brought in, backdated to ensure the continued detention of people held under the emergency.
Rights groups say there are nearly 2,000 officially confirmed detainees held for years without charge, though government officials say the numbers are falling as cases are processed.
In general the ending of the emergency has thrown up confusion among the public and contradictory statements by ministers, prompting many to ask what it means.
Police powers to security forces
There is still a dominant feeling of relief among many Sri Lankans that the war is over and they no longer live in fear of militant attacks.
Some thank the stringent laws for that – others ask whether they're still necessary. And there seems little prospect of the overall legal framework being softened.
(For updates you can share with your friends, follow TNN on Facebook, Twitter and Google+)