Chengkodi remembered in New Zealand
Thoazhar (comrade) Chengkodi of Kaangncheepuram, Tamil Nadu, a dedicated social worker and fighter of the rights of the weaker sections of the society immolated herself, to save the three Perarivalan, Murugan and Shanthan from being hanged. It is really sad that the 21-year-old lass should have taken a hasty decision. At the climax of the Vanni war, fourteen Tamil Nadu brethren including Muththukkumar immolated themselves urging the people and Government of India to safeguard the Eezham Tamils. These sacrifices should not end in vain, said Mr. A. Thevarajan, while addressing the gathering last Sunday at the function organised by the New Zealand Tamil Society to mark the sacrifice made by Thoazhar Chengkodi.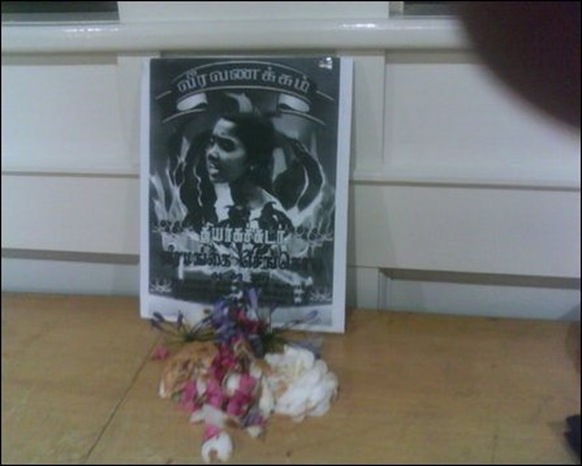 "It is our duty to see that the struggle for freedom of the Eezham Tamils is carried through to the very end of ultimate success. It is the only way to express our gratitude to those selfless souls, who have laid their lives," Thevarajan said.
"Perarivalan, Murugan and Shanthan are victims of a well known flawed inquiry. The Jain Commission that inquired into the conspiracy aspect of the Rajiv Gandhi assassination was hurriedly wound up. The three have served almost the entirety of a life sentence. It would be an insult to justice if they are to be hanged – that is imposition of double punishment," Thevarajan further said.
Following a two minutes silence in honour, the New Zealand Tamils offered flowers to the photo of Chengkodi and paid their homage.
(For updates you can share with your friends, follow TNN on Facebook, Twitter and Google+)