UN 'biased' on Sri Lanka says govt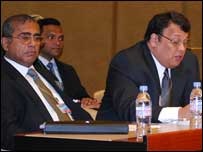 The UN Human Rights Council (UNHRC) which is under growing pressure to re-examine alleged violations of human rights that took place in Sri Lanka has been criticised by the Sri Lankan government.
Head of the Sri Lankan government delegation accused the UN High Commissioner for Human Rights of being biased and departing of "well established principal and procedure" in its affairs.
Addressing the session in Geneva, Plantation Minister Mahinda Samarasinghe, said that Sri Lanka was informed that the UN expert panel report will be discussed at the summit "in most peculiar circumstances."
He accused the UNHRC of failing to inform Sri Lanka government of any direct transmission of the report from the office of the secretary-general to that of High Commissioner for Human Rights.
"The failure of the high commissioner to inform the concerned state of Sri Lanka was fully inappropriate to say the very least," said Minister Samarasinghe, head of Sri Lanka government delegation.
Call to repeal PTA
Making the opening statement, High Commissioner Navi Pillai said that anti-terror measures adopted by member states have frequently been designed "with insufficient regard for human rights."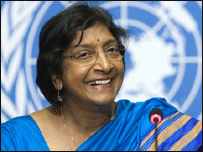 Sri Lanka is an example of these measures leading to "an erosion of rights and foster the culture of diffidence and discrimination," she said.
In Sri Lanka, "the response of successive governments over the years has undermined independent institutions, human rights and the rule of law," according to Ms Pillai.
Minister Samarasinghe, Sri Lanka government's special envoy on human rights, said the government has already taken measures to improve the rights situation.
He cited the partial withdrawal of emergency regulations (ER) in May 2010 and complete lifting of ER last month as examples.
However, "certain legal and regulatory arrangments have to be made" to continue the proscription of LTTE and the TRO, the minister said justifying the continuing usage of Prevention of Terrorism Act (PTA).
Cabinet approval
High Commissioner Navi Pillai urged Sri Lanka government to follow up the withdrawal of emergency regulations "with a comprehensive review of all security related legislation and detentions."
In Universal Periodic Review (UPR) held in May 2008, the minister reminded the Council, that Sri Lanka has 'worked hard' on the pledge to devise a five-year national action plan on human rights.
"We are now in the process of setting in motion the implementation phase, just last week the Cabinet of Ministers gave consent to this very important document," added Minister Samarasinghe.
But making its observations on Sri Lanka, the Amnesty International accused Sri Lanka of "ignoring" commitments made in 2008 UPR, "including promises to take all necessary measures to prosecute and punish perpetrators of a variety of violations of international human rights law and humanitarian law."
(For updates you can share with your friends, follow TNN on Facebook, Twitter and Google+)