UN under pressure to re-examine Sri Lanka 'abuses'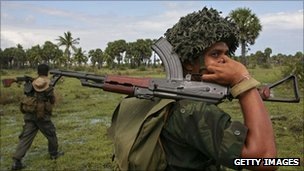 The UN Human Rights Council, meeting in Geneva, is under growing pressure to re-examine alleged violations of human rights which took place in Sri Lanka.
The alleged abuses took place in the final stages of the civil war in 2009.
A report commissioned by UN Secretary General Ban Ki-moon says that both sides committed violations.
An earlier council session on Sri Lanka stopped short of condemning violations and congratulated the government on bringing the civil war to an end.
That was a move that was harshly criticised by human rights groups.
The BBC's Imogen Foulkes in Geneva says that Sri Lanka is not formally on the agenda of this Human Rights Council session.
But our correspondent says that if, as expected, Mr Ban's report lands on the desks of council member states in the next day or two, the pressure on them to act will be immense.
The report – compiled by a panel of UN human rights experts – documents widespread violations committed by both sides during the closing stages of Sri Lanka's conflict with Tamil Tiger rebels.
Allegations of summary executions, the shelling of hospitals and the use of civilians as human shields would, if proved true, the report says, constitute war crimes and crimes against humanity.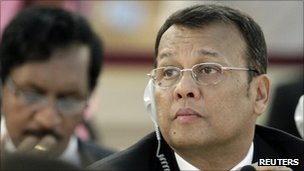 Sri Lanka has reacted angrily to the possibility of being debated once again at the Human Rights Council – its government is particularly irritated that Ban Ki-moon's report recommends an independent investigation into the alleged violations, something the council could authorise.
Sri Lanka has set up its own Lessons Learnt and Reconciliation Commission to address grievances – but human rights groups say that body is biased in favour of the government and is deeply flawed.
Earlier on Monday, UN High Commissioner for Human Rights (UNHCR) Navi Pillai said that anti-terror measures adopted by member states had frequently been designed "with insufficient regard for human rights".
She said that Sri Lanka was an example of states "undermining rights to combat terrorism… And fostering a culture of diffidence and discrimination".
In Sri Lanka, "the response of successive governments over the years has undermined independent institutions, human rights and the rule of law", she said.
But Plantations Minister Mahinda Samarasinghe – who is in Geneva on behalf of the Sri Lankan government – denounced the OHCHR as being "biased… and departing from well-established principles and procedures".
(For updates you can share with your friends, follow TNN on Facebook, Twitter and Google+)