Colombo recalls Dias over war crimes prosecution fear
Maj. Gen. (retd.) Jegath Dias, deputy Counsel in Sri Lanka's embassy in Germany, and commander of Sri Lanka Army's (SLA's) 57th division during the last phase of the Sri Lanka war, was recalled by Colombo "in response to accusations he was involved in war crimes," Swiss media reported today. Spotlight on Dias's alleged war-crimes began when Swiss Council of Eelam Tamils (SCET) and Tamils Against Genocide (TAG), a US-based activist group, first filed a case in the European Court of Human Rights (ECHR) against Germany for accepting Dias to the diplomatic post. Two other legal efforts by Swiss-based advocacy groups, Society for Threatened People and TRIAL, and by Germany-based European Center for Constitutional and Human Rights further hindered Dias's ability to function as a diplomat, sources said.

Swiss reports said that in August, the Swiss foreign ministry had confirmed Swiss officials had contacted Sri Lankan authorities about the case, which it said was of "great significance". The reports added that diplomatic sources had confirmed Dias had been recalled to Sri Lanka.
"While the departure of Dias is a landmark event which exposes the vulnerability of alleged war-criminals under international law, and which illuminates the power of focused legal action, the departure, however, does not foreclose the need to seek answers to the alleged crimes committed and accountability. In territorial Sri Lanka, Dias is not immune from the reach of universal jurisdiction, extra-territorial application of law, or extradition treaties, arising from litigation initiated in courts outside of Sri Lanka. Also, the injury to the Tamil community caused by Germany's recognition of Dias as a diplomat, not war criminal, raise questions of criminal and civil liability based in German constitutional law and regional and international human rights instruments," a spokesperson for TAG told TamilNet.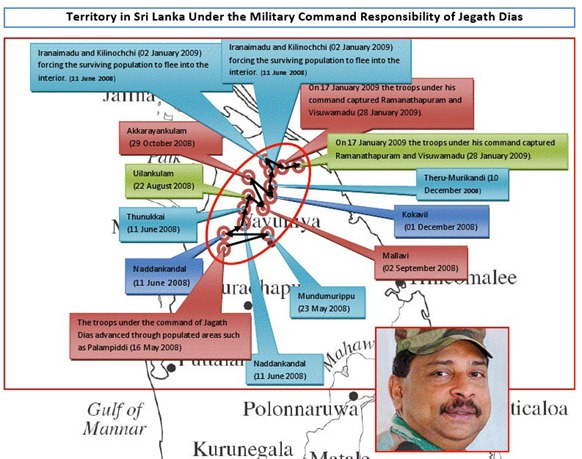 Territory under the military command responsibility of Jagath Dias [Illustration: CC[NS]/TAG]
ECCHR recently released a document which the group claimed "sub­s­tan­ti­ates al­le­ga­tions of war crimes com­mitt­ed by the 57 Di­vi­sion of the Sri Lankan Army un­der the com­mand of Ja­gath Dias.
ECCHR had appealed to the German Government to take the allegations leveled against Major General Dias' 57 Division seriously, and to seriously investigate his [Dias's] individual criminal responsibility. ECCHR also appealed to the German Government to withdraw the diplomatic visa of Major General Dias as well as declare him a persona non grata.
(For updates you can share with your friends, follow TNN on Facebook, Twitter and Google+)