S. Lanka economy posts 8.2% quarterly growth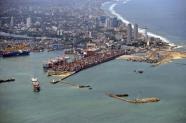 Sri Lanka's economy expanded by 8.2 percent during the three months to June from a year earlier, powered by a strong industrial performance, official data showed on Thursday.
The island's economy has expanded at a rapid pace since Sri Lanka's military crushed a nearly four-decade-long revolt by Tamil Tiger separatist rebels in May 2009 that killed tens of thousands of people, according to UN estimates.
Gross domestic product quickened by 8.2 percent in the fiscal second quarter, broadly in line with financial market expectations, compared with 7.9 percent growth in the first quarter, the statistics department said.
Economic expansion during the second quarter was led by the industrial sector which includes key exporters such as textiles and garments.
The industrial sector grew 9.4 percent during the second quarter from the same period a year earlier.
The services sector, which includes tourism, telecommunications, ports and transport, expanded by 8.8 percent while farm output grew by 1.9 percent in the quarter.
The International Monetary Fund said earlier this month that the island's economic conditions were "strong."
The Washington-based fund has lent the tropical nation $1.75 billion to date under a $2.6-billion bailout package.
Sri Lanka's central bank expects that the island's $50-billion economy will grow at a record 8.5 percent this year, up from a 32-year high of 8.0 percent posted in 2010.
Analysts say that Sri Lanka is reaping "the peace dividend" after the long civil war.
(For updates you can share with your friends, follow TNN on Facebook, Twitter and Google+)