Lanka's UN mission caught napping in the dark
External Affairs Ministe G.L. Peiris was hosting delegations of 29 countries to the United Nations Human Rights Council (UNHRC) to lunch in Geneva last Tuesday. Three other ministers were also present. They were Mahinda Samarasinghe, Nimal Siripala de Silva and Anura Priyadarshana Yapa.
The Sri Lankan Ministers were jolted from their seats when a member of the delegation representing the European Union gave them the news. He said he had met the UN Human Rights High Commissioner Navaneethan Pillay earlier that day. She had said that the report of the UN Panel on alleged war crimes in Sri Lanka was being sent to the Human Rights Council by Secretary General Ban Ki-moon.
No sooner the lunch was over, Peiris hurriedly telephoned Dr. Palitha Kohona, Sri Lanka's Permanent Representative at the United Nations. The news caught him by surprise. It was much later that the UN Secretary General's Chief of Staff Vijay Nambiar had telephoned to inform him that the report was on its way to Geneva. He said a copy of the documents that included the report on Sri Lanka's own humanitarian mission was being sent to him too.
Dr. Peiris was not happy that the office of Sri Lanka's Permanent Representative in New York was caught by surprise. Not when those staffing the office were being praised very much like Nobel laureates when they made speeches. Here was a case where they were unaware of a matter that was of great concern to the Government of Sri Lanka.
Little wonder, Sri Lanka's Permanent Representative to the UN in Geneva, Tamara Kunanayakam made a strong speech against Ms. Pillay. Sections of the External Affairs Ministry in Colombo were not quite happy about the tenor of her statement. This was on the grounds that she would have to work with the UN High Commissioner for Human Rights in the weeks and months to come.
Ms. Kunanayakam said in her speech "You must note, however unpalatable it may be to some, that terrorism has not been allowed to rear its ugly head since 2009, in Sri Lanka. We, like many other like-minded nations, are not willing to create nurseries for terrorists wherever they may be.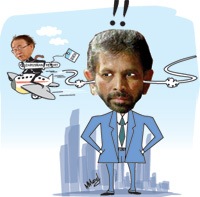 "Madam President, the partiality of the High Commissioner has once again been manifestly demonstrated in the Council today. You would recall that in April this year, following the extraordinary public release of the Darusman Report, which was compiled purely for the advisory purposes of the UN Secretary General, the High Commissioner referred to Sri Lanka's successful humanitarian operation as being one carried out "under the guise of fighting terrorism".. …..
"We find this distorted position once again reiterated by the reference to Sri Lanka in the present context, in crass disregard to contextual developments. Therefore, I categorically dispute the assertion of the High Commissioner that the combat of terrorism was designed with insufficient regard to human rights, more particularly, having regard to the giant strides that Sri Lanka has taken in the reconciliation process, and the numerous measures that the leader of our delegation has referred to this morning in his statement.
"I must also observe that it appears that the High Commissioner does not have the will to even acknowledge a paradigm shift in the policy of the Government of Sri Lanka. In her statement, she treats the lifting of emergency regulations so lightly and fails to acknowledge that they are withdrawn in their entirety. Sri Lanka observes that the High Commissioner's position on the withdrawal of emergency misleads the Council with regard to the true legal position……"
Spare the wall: Ranil
UNP leader, Ranil Wickremesinghe, was addressing a UNP Bala Mandala meeting in Kandy when his mobile phone rang. It was a party supporter calling from overseas. He said the wall around his Negombo houses was plastered with posters of the UNP candidate.
Wickremesinghe lost no time in telephoning the candidate in question and telling him to immediately remove the posters. It is not only the UNP but also its candidates who are brought into disrepute by such actions, he said.
Mervyn the chopper
Minister Mervyn Silva was addressing a meeting after opening a computer section at the Sri Dharmaloka Vidyalaya, Kelaniya. He said he had the same medicine with which Middle Eastern countries treated errant people. He said he would chop off the hands of those who slaughter cattle.
No PM for Tissa's book
UNP General Secretary, Tissa Attanayake, had a second launch of his autobiography in Kandy.
Prime Minister D.M. Jayaratne who was one of the invitees could not take part. His Air Force VIP helicopter could not proceed beyond Kegalle to be in Kandy for the event.
Thus, the other guest of honour, Karu Jayasuriya, the deputy UNP leader, was there on time.
Take your daughter to Jaffna
When President Mahinda Rajapaksa met representatives of Tamil political parties to discuss the security situation in the north, after the mythical "grease demons" scare, he had a word of advice to one of them.
He asked Easwarapathan Saravanapavan (TNA – Jaffna District) when he had taken his family to Jaffna. He replied he had gone there recently with the family.
However, President Rajapaksa, said he had met Mr. Saravanapavan's daughter at a function in Colombo this week. He had asked when she last visited Jaffna. She had replied that she had not gone during recent times and was unaware of the present situation there.
Before complaining to me, first take your family to Jaffna and show them the situation there, President Rajapaksa said.
Fisheries Minister in leaking boat
At last week's Cabinet meeting, Fisheries Minister Rajitha Senaratne complained that some proceedings of the previous week's meeting had leaked to the media. He claimed that some media had even reported what he had not said.
There was a mild rebuff from President Mahinda Rajapaksa. He said there was nothing he could do about it. There were some Ministers who were contacting the media soon after they left the meeting.
Even the references made to the loquacious Senaratne in last week's column, in a story titled 'JR's saline for private medical colleges' has prompted a response from Senaratne's private secretary, Collin Fernandopulle.
He says Senaratne has "never been against the establishment of a private medical college in Sri Lanka or for that matter any other private institution of higher studies."
Fernandopulle adds: "This was the same stand taken by the Minister as the then convenor of the trade union front of the Ministry of Health during the issue of the opening of the Ragama Private Medical College."
As is clear from Fernandopulle's remarks, there is no reference to what was said at the previous week's Cabinet meeting. I would re-iterate for his as well as Dr. Senaratne's information that his support for the private medical college did draw a response from his Cabinet colleague, Minister Wimal Weerawansa. Looking at President Rajapaksa, Weerawansa said earlier Senaratne was the convenor of the group that opposed the opening of the medical college at Ragama.
This reminds one of Dr. Senaratne's role in the previous Cabinet of Ranil Wickremesinghe which was dogged by co-habitation issues with former President Chandrika Bandaranaike Kumaratunga.
He was tasked with privately briefing selected media groups every week after the Cabinet meeting. The State run media then dubbed this as "Ralahamy Media." That briefing was in addition to the official media briefing by a spokesperson.
No tamasha in New York this time
When the traditionally bulky Sri Lankan delegation arrives in New York for the General Assembly sessions every year, one of the highlights is an equally massive reception for expatriate Sri Lankans (costing a tidy packet for the taxpayers). Last year, it was at the Waldorf Astoria hotel. But this year, there is no such tamasha. Is it austerity or the global financial crisis and its impact on UN delegations?
Successive Sri Lankan governments of all political stripes have also been criticised for fielding hefty delegations numbering 30 to 50, including security personnel and hangers on. Still, Sri Lanka has been beaten by another Asian country whose delegation (at last count) numbered 157 this year, including a heavy representation from that country's military. Perhaps an all-time record worthy of Guinness.
Incidentally, some African countries bring all their military and service chiefs to New York to avoid offering them the temptation of engineering a coup at home when the head of state is out of the country. And by a strange coincidence the Sri Lankan Army Commander Jagath Jayasuriya was in New York last week. But he was on his way to check our troops in Haiti.
After UN, Lanka faces Commonwealth battleground
When world leaders meet during the General Assembly sessions every year, the primary focus is not only their address to the world at large, but also, more importantly, the bilateral talks between heads of government or state, and among their respective delegations. This year's high level segment of the General Assembly, which begins next Wednesday, is no different.
But Sri Lanka apparently is specifically monitoring one such bilateral talks where the Brits and the Canadians are scheduled to meet to organize a campaign to drum up support among Commonwealth member states to oppose the government's offer to host the 2018 Commonwealth Games in Hambantota.
(For updates you can share with your friends, follow TNN on Facebook, Twitter and Google+)