Everyone wants united Sri Lanka under one Constitution: Joshi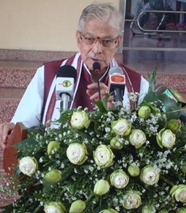 A Tamil National Alliance (TNA) delegation, which met senior Bharatiya Janata Party leader Murli Manohar Joshi here, told him that "some concrete steps must be visible" soon in arriving at a political solution to the ethnic question.
The talks between the Sri Lankan government and the TNA collapsed early last month, after the TNA insisted on a response to its discussion papers. The talks resumed on September 16, and a joint statement was put out. It said: "It was agreed at this meeting that the talks could continue on the basis of the Discussion Paper submitted by the TNA on 18th March 2011 along with earlier proposals, statements, and reports for Constitutional Reforms made public so as to agree on the principles that should form the basis of a political settlement to arrive at acceptable Constitutional arrangements soon."
Early resolution sought
After meeting policymakers and politicians here, Dr. Joshi said he was left with the impression that everyone wanted an early resolution leading to a united Sri Lanka under one Constitution. "[The Sri Lankan] Government is proceeding in that direction."Dr. Joshi articulated more or less the same line of the United Progressive Alliance-II government after listening first-hand to leaders here including Prime Minister D.M. Jayaratne, Foreign Minister G.L. Peiris and TNA leader R. Sampanthan.
"The principle of democracy of accepting every citizen as equal has to be kept in mind, and, all sections of society — including those in the northern parts — should be made to feel [they are] Sri Lankans [and are] equals. And all the assurances and the commitments should be implemented speedily… We in India desire and hope that Sri Lanka would remain united, free from violence, working under a Constitution and becoming a strong seat for preserving peace in this region," he told the Indian press here in an interaction on Sunday.
Asked why the BJP had of late begun talking about the Tamil issue, he said it was the duty of the party to raise issues of national interest and national well-being. "We are a responsible and constructive opposition."
Follow Buddha
Dr. Joshi was here to deliver the Anagarika Dharmapala commemorative lecture at the Mahabodhi Society of Sri Lanka, on the occasion of the 147th birth anniversary of its founder, Anagarika Dharmapala.
(For updates you can share with your friends, follow TNN on Facebook, Twitter and Google+)