Jaffna Fort getting Dutch aid to build 'Rajapaksa' mansion
Sri Lanka's president occupying the country of Eezham Tamils has issued orders to build a mansion of military and symbolic importance inside the Jaffna fort for the use of Sri Lanka's president, exploiting the opportunity of the renovation of the colonial fort by the assistance of the government of The Netherlands, news sources in Jaffna said. The 100 million Rupees renovation programme of the Dutch fort, in the name of 'tourism development', is shared 60:40 between The Netherlands and Sri Lanka. The Dutch initiative in renovating the symbol of colonial and post-colonial oppression immediately after the genocidal war, without recognizing the territorial and heritage ownership of Eezham Tamils but facilitating the agenda of colonising Colombo, has already evoked righteous indignation among Eezham Tamils against the 'culture and outlook' of the contemporary Dutch.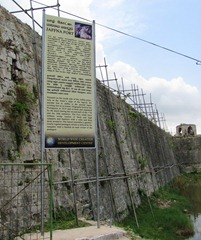 The Portuguese/ Dutch fort of Jaffna, in the later times of the British, had a mansion inside the premises that was called the King's House or the Queen's House, depending on the gender of the ruling British monarch.
Mahinda Rajapaksa has now passed orders to build this mansion again for the 'President of Sri Lanka'.
The SL Buildings Department has undertaken the task of making a modern mansion for the new colonial masters while the SL Archaeology Department is renovating the fort.
The Jaffna fort since its origins to this day was not a locality where the people of Jaffna felt themselves free. From being a centre of colonial oppression it became a centre of Sinhala State oppression in the so-called post-colonial times.
Even though The Netherlands government, having the Dutch colonial heritage in mind, is helping to renovate the fort, the genocidal State in Sri Lanka has its own agenda, news sources in Jaffna said.
Just like the plans for Sinhala militarisation in the country of Eezham Tamils the fort is not going to be handed over to the people of the land, the news sources said.
The credibility of the Dutch outlook for culture and heritage is seriously questioned in Jaffna.
With the on-going agenda, the people of Jaffna could never feel the fort as a heritage symbol marking 'reconciliation' with their former colonial masters in the West, commented an academic in the University of Jaffna.
According to current estimates, the cost of the fort programme aided by The Netherlands symbolising the structural genocide of Colombo, may be doubled reaching 200 million Rupees, news sources further said.
Meanwhile, the SL colonial governor in Jaffna, Maj. Gen, Chandrasri has already built another symbol of Sinhala colonialism in Jaffna – a mansion for the occupying governor in the British-laid Old Park in Jaffna.
This was built at the cost of 100 million Rupees, after cutting down centuries old trees in the Old Park and disturbing the bird sanctuary there. The Old Park is occupied by the SL Army now and is out of reach for the public.
(For updates you can share with your friends, follow TNN on Facebook, Twitter and Google+)