Sri Lanka to shut down Vavuniya displacement camp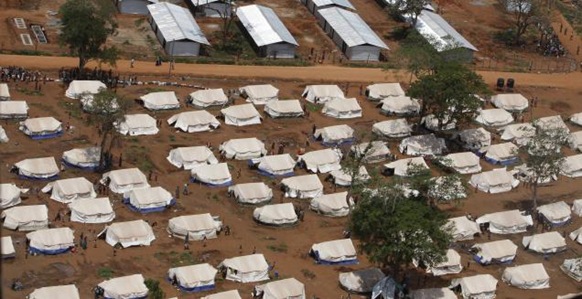 One of the world's largest displacement camps, that housed nearly 300,000 internally displaced people from the conflict with the LTTE, will soon be shut down, Sri Lankan defence ministry announced here on Monday.
Preparations have begun to relocate those still at the Manik Farm camp in the northern district of Vavuniya on a 600 acre site elsewhere, the ministry said.
"Accordingly, 7,394 IDPs (Internally Displaced People) of 2,097 families presently accommodated at Manik Farm relief village will be resettled in the village, and each family will be provided with 40 perch block of land and a semi-permanent house in Kombavil village enabling them to start their livelihood soon after the resettlement," a statement said.
Kombavil is an area in Puthukudyiruppu in the Mullaithivu district, which served as the LTTE's military capital in their decades-old parallel State.
The leftover 7,000 IDPs to be resettled in the Manik Farm are those who came from Puthukudyiruppu, where the demining of the areas is yet to be completed.
The UN secretary general Ban Ki Moon visited the Manik Farm camp almost immediately after the military clashes ended in May 2009. Sri Lanka made steady progress in the resettlement of the IDPs despite the earlier criticism of slowness in the process.
The resettlement process was particularly quickened since December 2009 when people were allowed to leave the camp.
(For updates you can share with your friends, follow TNN on Facebook, Twitter and Google+)