Sri Lanka – vacancy for hangman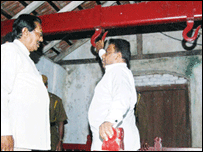 The authorities in Sri Lanka say they will shortly be advertising to recruit a hangman.
No death sentence has been carried out on the island since 1976.
Legal option
But execution remains a legal option and there are 357 prisoners on death row.
Neither the current outgoing hangman nor his predecessor actually hanged anyone.
The post of hangman is based in the capital's best known prison, Welikada.
It is not an especially senior one, and is falling vacant because its current incumbent has been promoted to the post of prison guard.

No imminent plan
Sri Lanka's prisons chief, P.W. Kodippilli, told the BBC there was no imminent plan to restart executions.
But with many prisoners on death row, they could in theory happen, and Mr Kodippilli said the necessary equipment was ready.
The current hangman, whose name is not public knowledge, was only 22 when he started the job nine years ago, following his father.
In interviews a few years ago, he said poverty forced him to take the job.
no one hanged
Although he believed in capital punishment for the worst crimes he felt his father was lucky not to have hanged anyone and said the gallows made him a bit nervous.
He was quoted as saying: "Everyone thinks the hangman is a man without a heart – this is wrong."
He spent most of his time on clerical duties and has vowed not to have his children take his old job.
None of those on death row are former Tamil Tigers.
Periodically the government has announced its intention to restart hangings but not actually done so.
(For updates you can share with your friends, follow TNN on Facebook, Twitter and Google+)