Australian Senator calls for suspension of Sri Lanka from CHOGM
In a roundtable discussion led by Australia's Green Party Senator from New South Wales, Lee Rhiannon, the party passed a resolution calling upon the Australian government to suspend Sri Lanka from the forthcoming Commonwealth Heads of Government meeting (CHOGM) to be held in Perth next month and to Sri Lanka to be suspended from the Councils of the Commonwealth because it is resisting setting up a tribunal to investigate war crimes.. The Green Party accused Sri Lanka for refusing to hold an independent international investigation into the alleged war crimes committed during the final stages of the civil war in 2009 and for breaching the commitment to the Commonwealth's values and principles.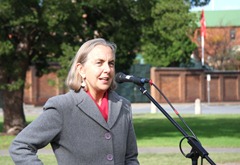 "The ball is with the Australian Government to stand up for human rights to ensure the process of restoration can commence and the war crime tribunal is held," Rhiannon told the meeting.
John Dowd AO QC from the International Commission of Jurists Australia, Dr Sam Pari from the Australian Tamil Congress, Associate Professor Jake Lynch from the Centre for Peace and Conflict Studies, Peter Arndt from the Catholic Justice & Peace Commission of Brisbane were invited as panelists for the meeting.
"If Sri Lanka is used as a host, it ignores the fact that war crimes have been committed. The Commonwealth has to realise it can't keep being polite when one of its members is guilty of (such) crimes," John Dowd of Internal Committee of Jurists (ICJ) said.
pdf: Green Party RoundTable Media Release
Dr Sam Pari, spokesperson for the Australian Tamil Congress said: "The Sri Lankan regime needs to know that perpetrators of war crimes cannot simply continue to evade accountability with impunity, and deny justice to their victims.
"A tribunal for the Tamil killing field should be turned into a global symbol of deterrence for other authoritarian regimes willing to kill their own civilians. Without a tribunal, the Tamil killing field becomes a horrific precedent suggesting that in our era, states can escape unscathed for egregious violations of human rights law.
"Suspending Sri Lanka will send a strong unambiguous message to Sri Lanka: as long as you continue to obstruct an international independent inquiry into war crimes you will face consequences", said Dr Pari.
Sydney University's Jake Lynch asked what Ms Gillard was doing to prevent the government of Sri Lanka from getting away with war crimes.
Meanwhile, Sri Lanka's High Commissioner in Canberra, Thisara Samarasinghe, who is himself accused by diaspora Tamils of committing war-crimes, dismissed the war crimes allegations as "unsubstantiated propaganda."
pdf: AFTA letter to the PM to block Sri Lanka
Australasian Federation of Tamil Associations (AFTA) also has been campaigning to block Sri Lanka from participating in CHOGM.
A Greens Senate motion in July calling for an investigation of war crimes allegations against the Sri Lankan government and Tamil Tigers received unanimous support.
Last week, Canadian Prime Minister Stephen Harper said he would lobby for a boycott of the proposed Sri Lanka-hosted Commonwealth Heads of Government Meeting in 2013 unless it could prove significant progress on human rights. Australia hosts the next CHOGM in Perth late next month.
Pakistan was suspended from the Commonwealth in 1999 and in 2007 following military overthrow of government, and Fiji was suspended in 2000 and again in 2006 after coups.
(For updates you can share with your friends, follow TNN on Facebook, Twitter and Google+)