President urges international friendship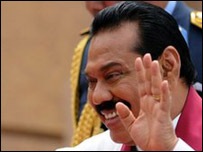 The president of Sri Lanka, Mahinda Rajapaksa, has called on the international community to "drop pre-conceived notions" and help achieve long-lasting peace in the island.
Addressing the 66 session of the UN General Assembly in New York, Mr Rajapaksa unveiled to the world body of country's achievements since the end of the military conflict.
"We ask our friends in distant lands to drop pre-conceived notions. We strongly believe in home grown solutions for them to be sustainable," President Rajapaksa said.
"It is clearly impractical to conceive of universal remedies for problems which afflict our problems," said the president.
Noting that battle for peace is "every bit as important and difficult as the struggle against terror," he appealed to the world body to allow more time to develop the war-battered nation.
1143 Tamil police
"My country, as it comes out of the darkness of the last three decades into the light and promise of the future, must be afforded the time and space to seek its destiny in accordance with the wishes of its people," he said.
The president also outlined the efforts of his government for "reconciliation and inclusivity" since the Tamil Tigers were defeated in May 2009.
669 Tamil police officers were recruited during the last 30 months, he said, bringing the total of Tamil officers in Sri Lanka police service to 1143.
More Tamil officers will be recruited in the future, said the president, to the service with estimated around 85,000 personnel.
On international issues, President Rajapaksa expressed support for the call for independent state for the Palestinian people.
"It is a matter for profound disappointment that this has not yet happened," said Mr Rajapaksa.
"It is time for decisive action rather than more discussion. This will be in the interest of the security and the well being of the entire region including Israel."
(For updates you can share with your friends, follow TNN on Facebook, Twitter and Google+)