Tamils protest outside Rajapakse's UN address
Nearly one thousand Tamils protested outside the United Nations Friday between 10 a.m. and 2:00 p.m. while Sri Lanka's President Mahinda Rajapakse was addressing the UN's General Assembly. Protesters held placards criticizing UN's inaction on Sri Lanka, and took the 'Pongku Thamizh' oath promising to continue to non-violent struggle until Tamils' inalienable rights are recognized in a political settlement based on Tamils right to self-determination, attendees to the event said. Several protesters crossed the Canadian border to be present at the rally held amid tight security on the 47th Street between 1st and 2nd Avenue.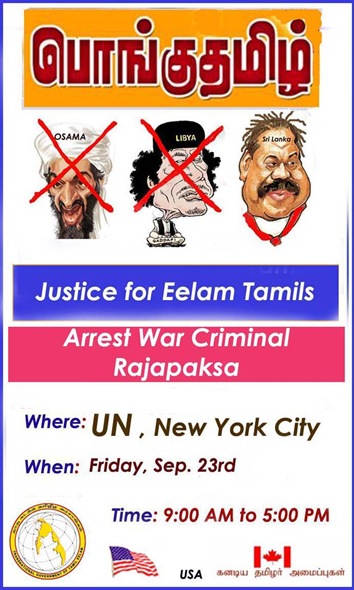 Visuvanathan Rudrakumaran, of the New York establishment of the Transnational Government of Tamil Eelam (TGTE) addressed the participants of the rally.
The TGTE has not so far questioned the US Administration or its Asst Secretary of State Robert Blake for calling for 'united Sri Lanka' and thereby rejecting the right to self-determination of Eezham Tamils.
The ritual and rhetorical protests not addressed to where they should be addressed hijack the spirit of people's uprising, especially in an international scenario in which both thesis and antithesis are stage-managed by the same, diaspora observers said.
The TGTE in its call for the rally came out with a poster equating Osama and Gaddafi with Rajapaksa, implying that when the US has taken action against the former two, the latter is left untouched. The comparison of personalities involved with the international scenario of a different genre with that of genocidal Rajapaksa is inappropriate and is of bad taste, many diaspora Tamils commented.
The oath taken at the US rally included the following proclamation:
"As a distinct nation, we retain our sovereignty, and have the right to determine our own future based on international law;"
and the following pledge:
"Through the formation of the independent Tamil Eelam state, we resolve to enact democratic governance, respect individual rights and freedoms, and embrace free-market economy. The proposed State of Tamil Eelam will maintain cordial relations with its neighbours and ensure peace and stability in the Indian Ocean region."
The phrase "Pongku Thamizh," originally coined by the poet of the Dravidian movement, Bharathi Thaasan in the 1940s, manifested into the identity of an awakening movement centering around the University of Jaffna during the LTTE times. The phrase is now competitively claimed by various shades of Eezham Tamil political opinion both asserting to Tamil uprising as well as pawning Tamil sovereignty with its own adversaries.
The original Pongku Thamizh movement never had anything to say on associating Tamil liberation with controversies of global economic orientations.
Meanwhile, inside the UN, Sri Lanka's President told the international attendee diplomats that "longstanding beliefs [of Sri Lanka's Sinhala culture] cannot be trumped by "human rights… from alien cultures [Western culture]," according to a report by Inner City Press.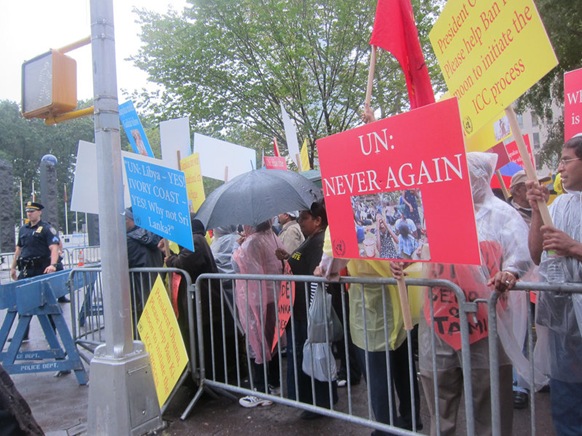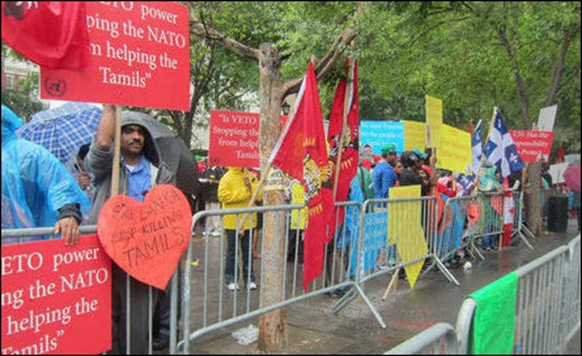 (For updates you can share with your friends, follow TNN on Facebook, Twitter and Google+)