Appeal for critically ill Tamil prisoner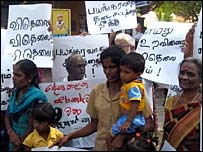 Family members of a Tamil political prisoner, who is critically ill, have appealed for an early release and medical assistance.
Rasaratnam Jegatheeswaran, 33, is now being treated at the ICU of the National Hospital in Colombo.
Doctors have revealed to his wife that her husbund's kidneys have failed to function and he is under dialysis treatment.
Transplantation of kidneys should be done within three months time.
The doctors have told her as intensive medical care is needed during post transplantation period and therefore, it is necessary that he should be released from the prison for such treatment.
No help
Ranitha says that she has nobody to help and therefore, she is appealing to authorities and institutions concerned for an early release of her husband and necessary medical assistance.
Jegatheeswaran was a former member of the LTTE and has left the organisation years back and was married to Ranitha.
In 2009 he was injured at Mullivaikal while fleeing with his family for safety.
He was then taken to Trincomalee hospital for treatment by ICRC naval craft.
He was arrested at Pulmoddai soon after he left the hospital and sent to Boosa prison and then transferred to Welikade remand prison where he fell ill a few months back.
(For updates you can share with your friends, follow TNN on Facebook, Twitter and Google+)