UK Apeals Court stays deportation order of Tamil asylum seekers
An unknown number of Tamils, rumored to be close to 50, who were to have been on today's flight and who had appealed for judicial review of their cases have had their High Court removal orders overturned in the Court of Appeal Wednesday, Channel-4 reported. An appeal court judge had overturned one Tamil woman's removal orders on the grounds that the UK Border Agency had breached British and European law by disclosing potentially sensitive information on the individual to the Sri Lankan authorities, thus placing her at greater risk upon her return, the report added.
News on stay of deportation Courtesy: Channel-4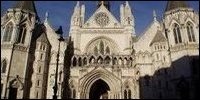 The Appeal court said in ordering the stay of removal: "It is reasonably arguable that there has been breach of the prohibition of section 13(3) of the Immigration and Asylum Act 1999 and the UK's Charter Obligations in giving information about the "failed asylum status' of the applicant which may reasonably form the basis of an application for a judicial review," the report said.
Section 13(3) of the relevant UK Act states, "In providing identification data, the Secretary of State must not disclose whether the person concerned has made a claim for asylum."
Channel 4 report further said:
Since the end of a brutal civil war in Sri Lanka in May 2009, human rights groups have repeatedly highlighted serious concerns over the safety of members of the island's Tamil minority.
Human Rights Watch, Amnesty International and the British-based charity Freedom from Torture cite continued credible evidence of physical abuse, disappearances, rape and detention without trial.
"The position of the present government is untenable. We have documented evidence that torture is continuing in Sri Lanka," says Keith Best, Chief Executive of Freedom from Torture (formerly known as the Medical Foundation for the Care of Victims of Torture).
"The UK is leaving itself wide open to allegations of turning a blind eye to torture by removing people in this manner," said Mr Best. "There is no evidence that the British government is attempting to monitor what happens to them on their return."
Official documents obtained by Channel 4 News indicate that Flight PV030 was scheduled to depart for Sri Lanka with "up to 50 returnees" at 1500hrs on Wednesday 28th September. The documents reveal that passengers would comprise a mixture of failed asyslum-seekers, foreign national prisoners and other immigration offenders.
(For updates you can share with your friends, follow TNN on Facebook, Twitter and Google+)