Last rebels pass out of Sri Lanka post-war rehab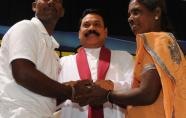 Sri Lanka wrapped up its two-year rehabilitation of surrendered Tamil Tiger rebels with the re-uniting Friday of 1,800 men and women with their families.
President Mahinda Rajapakse addressed the last of the 12,000 former members of the separatist Liberation Tigers of Tamil Eelam (LTTE) to pass through the programme at his tightly-guarded Temple Trees residence in Colombo.
"As you rejoin society today after two years of vocational training, you go out as free men and women," the president said. "But there will be anti-social elements who will prey on you.
"But I hope you will work for peace and ethnic harmony in this nation of ours. We must not dwell on the bitter past, but look to a prosperous future," he said amid applause from the ex-Tiger cadres dressed in jeans and T-shirts.
The programme was run by the Rehabilitation and Prison Reforms for former rebels who surrendered to security forces at the end of the island's separatist war in 2009.
The men and women have been given training in masonry, plumbing, carpentry and business among others. Some were also trained as psychologists and computer programmers.
Poobalasingham Sridasan, 33, enlisted to learn IT skills as well as agriculture after he surrendered to security forces.
"I am looking forward to going back to my village (in the northern district of Mullaittivu where the final battles were fought)," Sridasan said.
He said he had been forced to work for the Tigers who controlled nearly a third of the island's territory at the height of their power in the mid 1990s.
Arunachalam Jegadas, 25, said he worked as a medical orderly for the Tigers. After learning motor mechanics at one of 24 rehabilitation centres in the island's north and east, he was hopeful of finding a job abroad.
Another 25-year-old man, Kamalnath Chandran, said he joined the Tigers in 2007 as a clerk and surrendered to the army when the guerrillas faced their final defeat in May 2009.
"Many of my colleagues want to go abroad and I am also hoping for a job abroad," Chandran said at a lunch hosted by the president at his official residence.
He said there were no hard core Tiger fighters among those ending their rehabilitation programme which had received support from many Western governments.
Western diplomats, including those from the US, Britain, Australia and India, were present at the ceremony marking the "re-integration in society" of the former Tiger cadres.
Human rights groups have accused government forces of still holding thousands of Tamil Tiger suspects under the tough Prevention of Terrorism Act and urged the authorities to either charge them in courts or release them.
Government forces crushed the separatist LTTE in a major offensive that ended nearly four-decades of ethnic bloodshed, but it also sparked widespread allegations of human rights abuses.
Sri Lanka has resisted international calls for a war crimes investigation after insisting that no civilians were targeted by its troops. However, rights groups say up to 40,000 civilians may have been killed by both sides.
(For updates you can share with your friends, follow TNN on Facebook, Twitter and Google+)