Japan's defiance to adhere to UN Convention, leaves Tamil Refugees in limbo
Several refugees, fleeing repression and threat to life in Sri Lanka, are either being held in Japanese immigration jails, or have been temporarily released on "bail" after paying sums of between $2K to $5K, and these refugees are undergoing severe misery for more than two years, Tamils Against Genocide (TAG), a US-based activist group contacted by the asylum seekers said. Since becoming a signatory to the 1951 United Nations Convention Relating to the Status of Refugees in 1981, and until 2008 Japan has admitted only 573 of a total 7,297 applicants under the guidelines set out in the convention while an additional 882 were granted permission to remain for humanitarian reasons, reports indicate.
PDF: UN Convention and Protocol on Refugee
PDF: Japan's Refugee Recognition Act
"Refugee determination in Japan is handled in line with the nation's broader immigration policy by the Ministry of Justice as set out in the Immigration Control and Refugee Recognition Act (MoJ (2008)). As such the doctrine of defending a notional universal Japanese national identity, found at the core of Japan's stringent immigration policy, has also had far reaching implications for asylum applicants and refugees alike," a researcher at Waseda University in Shinjuku-ku, Tokyo says.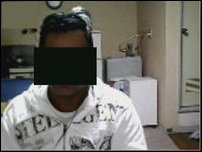 A 40+ year old Tamil from Urumpiraay, Jaffna was incarcerated in Colombo jail when he returned from working 10 years in Saudi Arabia. He bribed his way out of the jail escaped to India and registered himself as a refugee fleeing persecution in Sri Lanka. On his way to join his brother in Canada, Japanese Immigration took him into custody in January 2009, and he has been surviving with limited funds, his travel documents confiscated by the Japanese authorities, according to the details related by the refugee to TAG.
The asylum seeker told TAG that there are at least five other Tamils aged between 20 and 40, who live close to him in similar situation facing misery in the Ashikaga Shi city near Tokyo, and there could possibly be many more living in other areas.
"The immigration officials told us that they have no way of ascertaining whether their filings of persecution are true. A tamil translator of Japanese origin in the immigration department told us that Sri Lanka's Tamils are unlikely to be given asylum due to the friendly relationship Japan has with Sri Lanka. We also cannot trust the legal help given to us at the Yotsuya Shinjuku-ku office as the officials did not give a sympathetic ear to the imminent threat to us in Sri Lanka," TAG said quoting the refugee.
Tamil refugees whose Japanese or English proficiency are substandard are also looking for assistance from established Tamils in Japan, the refugees had told TAG.
"One measure used by the UNHCR to calculate a nation's capacity for refugee settlement is refugees to GDP per capita. This benchmark takes into account both the economic and demographic standing of a nation. In 2007 Japan's refugee to GDP per capita index was 0.1. When compared with the US (6.2) UK (8.4) and China (56.5) it is clear that Japan is not fulfilling its potential as a refugee host nation, Waseda researcher says, adding, Japan has been accused of buying its way out of trouble by contributing large sums of financial backing for refugee resettlement programs overseas. In 2004 total contributions to organizations such as the UNHCR amounted to $95.3 million.
The "ambivalence" of a refugee's stateless position within a world system that relies upon national identity to determine an individual's access to civil rights puts them at odds with preconceived ideas of nationality, another researcher says,and suggests that the nation's ability to keep those who are "unwanted" outside its borders is in itself implicit in the formation of national identity.
This fragile situation allows the recognition process to be used in a way that purposefully excludes applicants through "manufacture of illegality. i.e. the applicant is forced work illegally to survive, and this act is made to resemble those of an illegal economic migrant so that they may be tarred with the same brush regardless of the substantiality of their claim for asylum.
Those without access to financial aid from civil organizations often have little choice but to partake in illegal labour, which most of the Tamils may be currently doing to survive. Such forms of "illegalisation" can have implications on the credibility of an asylum applicant, a factor crucial to the potential success or failure of a claim.
[DIVDER]
TamilNet: 08.10.11 Japan's defiance to adhere to UN Convention, leaves Tamil Refugees in limbo
(For updates you can share with your friends, follow TNN on Facebook, Twitter and Google+)