Sri Lanka ruling party wins polls marred by violence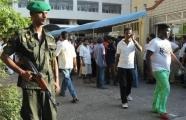 The Sri Lankan president's party won 22 out of 23 local councils in elections, results showed on Sunday, as police investigated a gun battle between political rivals in which three people were killed.
Two factions within the national ruling alliance clashed shortly before polling closed on Saturday, leaving a presidential aide and two of his bodyguards dead and more than a dozen people seriously wounded.
Police said at least two officers were among those critically hurt in the shoot-out in the Kolonnawa electorate within the capital district of Colombo.
Official poll results showed that President Mahinda Rajapakse's United People's Freedom Alliance swept the polls, but lost the most prestigious Colombo Municipal Council.
The fractured opposition faced a rout elsewhere, with Rajapakse's party gaining large majorities in provincial towns.
At the site of the shoot-out, a curfew was lifted on Sunday morning, but hundreds of police commandos and soldiers remained on the street after party supporters went on a rampage damaging property and setting vehicles on fire.
Presidential adviser Bharatha Lakshman Premachandra, 55, died of gun shot wounds along with two of his bodyguards when a rival faction within the ruling alliance opened fire minutes before polling ended.
Premachandra's arch rival, legislator Duminda Silva, was also wounded in the confrontation and was in intensive care after surgery to remove two bullets from his brain, hospital sources said.
The shooting has seriously embarrassed the government, which is yet to comment on the violence.
Saturday's poll, in which 1.5 million people were eligible to vote, was seen as a mid-term test for Rajapakse, who won a second term for himself and his party in elections last year.
The Asian Human Rights Commission (AHRC), based in Hong Kong, said Saturday's deaths underlined that the brutal and deadly nature of Sri Lankan democracy.
"This violent conflict between two prominent members of the ruling regime points to the type of politics prevailing in the country," the AHRC said in a statement.
Government spokesman Keheliya Rambukwella did not comment on the incident, but said in a statement that the overall victory for the ruling party was a vote of confidence for the president.
Rajapakse has boosted his popularity and tightened his grip on power since government troops crushed Tamil Tiger rebels in 2009 to end nearly four decades of ethnic conflict which had claimed up to 100,000 lives.
"People have endorsed the president's plans to take development to villages after ending terrorism in 2009," Rambukwella told reporters.
(For updates you can share with your friends, follow TNN on Facebook, Twitter and Google+)