US Court authorizes use of TamilNet to serve Rajapakse
In a precedent setting order issued by the District Court of District of Columbia Thursday on the case against Sri Lanka's President Rajapakse filed by three Tamil plaintiffs, Judge Kotelly authorized service by "posting the full summons and complaint on the main page of the TamilNet website," and by publication in two Sri Lankan newspapers. Legal sources in Washington said that Rajapakse being haled into a US court to answer charges of complicity in the extra-judicial killings of plaintiffs relatives is imminent.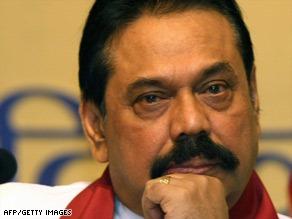 Judge Kotelly in her short opinion leading to the order said, '[h]aving evaded service in person and refusing service under the international agreement [Hague Convention] established for the purpose of service of process on international defendants, "it is not reasonably possible or practicable to give more adequate warning" to Defendant [Rajapakse] than service by publication.
pdf: Court order: Alternate means of service
Bruce Fein, in responding to the Court order said:
"The District Court's order authorizing service of the Torture Victims Protection Act Complaint and Summons on Sri Lanka's President Rajapaksa via newspaper publication and posting on TamilNet marks a legal milestone in achieving accountability for the gruesome extra-judicial killings of innocent civilians ordered or condoned by the highest officials of the Sri Lankan government during the ethnic civil war.

"After service is effectuated, President Rajapaksa will be compelled to respond to the Complaint's accusations in a court of law uncompromised by partisan politics. It can be expected that President Rajapaksa will retain an army of luxury-priced lawyers to defend him, who will attempt to throw technical legal obstacles to thwart justice.

"We urgently need all available financial and moral support to achieve victory not only for the three named Plaintiffs, but for all the victims of President Rajapaksa's atrocities. A judgment in our favor in this case would set a precedent that would underwrite copy-cat TVPA suits by other victims of Rajapaksa endorsed or sponsored extra-judicial killings or torture."
Meanwhile, another Sri Lanka website run by exiled journalists said that "[a] legal expert told this website that the granting of this motion was in itself a huge victory for the Plaintiffs and perhaps an indication of the acceptance by the Courts that the Complaint is sufficiently serious with a sound legal basis that has the potential to go to term rather than crash in the early stages on preliminary objections."
Legal sources point out that there is binding precedent in the District Court of District of Columbia, in Mawani v. Osama Bin Laden, 417 f.3d 1, when foreign defendants avoid recognizing the service of process the court has granted plaintiffs leave to serve those defendants by "publishing…notice for six weeks in the Daily Washington Law Reporter,…"
The court would likely prefer to see more than one of the traditional avenues exhausted before allowing the plaintiffs to seek a default judgment, and in the Rajapakse case, the Court noted that "[h]aving unsuccessfully served Defendant with process via the Hague Convention, mail, and in person, Plaintiffs now seek to serve Defendant with process by one of a number of means, including publication, Twitter, Facebook, and email."
(For updates you can share with your friends, follow TNN on Facebook, Twitter and Google+)