Liam Fox is gone: Sri Lanka's lost a friend – Channel 4 News
In the wake of Dr Fox's resignation, foreign affairs correspondent Jonathan Miller reveals the links with private interests that allowed Dr Fox to run what some called 'a shadow foreign policy'.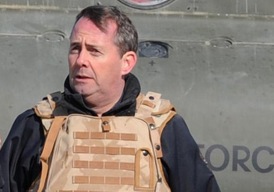 So why did Liam Fox jump now, having toughed it out for days? Was it the growing revelations about how his friend Adam Werritty was funded?
Or was it the threat of even more damaging revelations concerning the Defence Secretary himself?
Channel 4 News has found evidence suggesting that a trust fund which Dr Fox claimed this week to have 'created' was actually set up and funded by a London-based corporate intelligence company. The firm, G3, counts major defence contractors – including British Aerospace – among its stellar client list.
It was this fund that repeatedly paid for Dr Fox's business-class air fares to and from Sri Lanka, and his accomodation, whilst Shadow Defence Minister. G3 has not responded to repeated requests from Channel 4 News for a response to these allegations.
The Sri Lanka Development Trust is registered to an address in Edinburgh, but until recently, it was registered to 40 George Street, London, an address shared with G3, among several other companies, most linked to G3, which is known to employ many former intelligence officers from MI5 and MI6.
None of this would be illegal or in contravention of parliamentary members' guidelines. But Dr Fox appears to have knowingly accepted – given his claim to have 'created' the fund in the first place – expenses from a trust set up by a company which numbered leading defence firms among its clients.
"Fox is an intelligent person," said a senior source in the world of private corporate intelligence tonight. "But my own touchstone phrase is 'never underestimate the stupidity of clever people'. It was always going to stink. The only reason G3 would have set up the Sri Lankan trust would have been for commercial reasons."
Key to Dr Fox's downfall was his apparent running of a parallel foreign policy, managed by his best man, Adam Werritty, who masqueraded as a ministerial adviser.
Nowhere has this compromised the position of the British government more than over Dr Fox's dealings with Sri Lanka. Human rights groups, who want the Sri Lankan government held to account for alleged war crimes, believe Dr Fox provided a fig-leaf of respectability for a regime increasingly regarded as pariah.
"It must have made it difficult for the Foreign Office," says Emma Reynolds MP, a shadow Foreign Office Minister. "Dr Fox put them in a difficult postion and would have made it very diffucult for them to deliver tough messages to the Sri Lankan government."
Last December, Channel 4 News asked why the Defence Secretary was privately meeting Sri Lanka's President in London.
A recent United Nations report says that up to 40,000 Tamil civilians may have been killed in the final weeks of the conflict, which ended in May 2009.
William Hague, the Foreign Secretary, is known to have intervened with No. 10 to prevent the Defence Secretary from making a private visit to Sri Lanka in the wake of the President's trip to London. Dr Fox was forced to cancel the visit.
When the trip was called off, Adam Werritty was already in Sri Lanka, awaiting Dr Fox. In a meeting with Sri Lanka's External Affairs Minister, Prof. GL Peiris, Mr Werritty was asked to change the status of the cancellation… to a "postponement in order to prevent embarrassment to the government…" according to the Sri Lankan newspaper, The Sunday Leader.
The Ministry of Defence press release in London used the words: "Dr Fox has postponed his private visit to Sri Lanka…"
"For Britain's Defence Secretary to have repeatedly visited Sri Lanka, at the regime's expense, and in the company of Werritty, a known lobbyist, sends completely the wrong signal about the need to investigate atrocities which took place there," says Alan Keenan of the International Crisis Group, which has pressed for accountability in Sri Lanka.
"Liam Fox appears to have weakened the British government's ability to send a clear an principled message on the importance of holding alleged war criminals to account" he said.
(For updates you can share with your friends, follow TNN on Facebook, Twitter and Google+)